Legends of the Wild, in collaboration with Last Frontiers Trekking Ltd. and Global Primates Network (GPN), will lead a series of Snow Leopard Camera Trap Research expeditions in Nepal starting December 2017.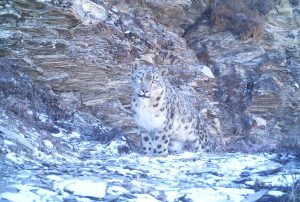 Each of these expeditions – from arrival in Kathmandu to final departure – will last ten days, five of which will be spent in the company of our field biologist, Tashi Ghale. A small group of four to eight persons will visit the remote Tilicho Lake region in the Annapurna range of the Himalayas to work with Tashi in his effort to capture images of the snow leopard on cameras he has set up in numerous areas. Travelers will help collect and download the data to determine the leopards' movements, habitat, prey and behavior patterns. The snow leopard is listed as "endangered" on the International Union for the Conservation of Nature (IUCN) Red List of Threatened Species, primarily for reasons of climate change, retaliatory killings by humans and habitat fragmentation.
These unique journeys have been conceived with two objectives: to allow participants to witness, first-hand, compelling wildlife conservation field research against a spectacular Himalayan setting and to provide funding support for GPN's ongoing mission to protect the future of snow leopards in Annapurna through scientific research and community outreach programs. Participants on the journey will see the tangible application of the funding provided by the expedition to GPN to support its snow leopard conservation efforts.
Along the trail, the group will meet with communities of migrant yak herders who today represent the most frequent point of conflict between humans and snow leopards. A large part of Tashi's work today involves the creation of viable alternatives – to the killing of snow leopards – for the benefit of the yak herders to safeguard their livestock. Such alternatives include the construction of portable 'safe' corrals for young livestock as well as the supply and use of 'fox-lights' to discourage snow leopards from approaching herders' encampments. Much of the funding provided by our expeditions will be allocated to the acquisition of such tools – 'safe' corrals and 'fox-lights' – to assist GPN is its efforts to reverse the trend of snow leopard retaliatory killings.
Contributing members are responsible for the accuracy of content contributed to the Member News section of AdventureTravelNews.