Ecuador based tour operator, to provide stability to sustainable eco friendly property in the Amazon rainforest.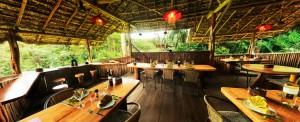 Quito based tour operator Latin Trails announced that it has added the Hakuna Matata Amazon lodge as part of its portfolio. Latin Trails will be follow the line of sustainable tourism operations the lodge is well known for, offering fair employment to members of the local Chaupi Shungo and Libertad indigenous communities and protecting the 120 acres of rainforest that are part of the lodge.
As a tour operator Latin Trails will secure a steady flow of visitors for Hakuna Matata. For this purpose, the lodge has just recently undergone a major refit in all its areas as a first step in a multilevel plan to position Hakuna Matata as one of the top lodges to enjoy nature in the Amazon rainforest of Ecuador and South America. Latin Trails has presented Hakuna Matata Amazon lodge at several travel tradeshows around the globe including Travel Mart Latin America and the World Travel Market. These initial actions have secured interest from important wholesale tour operators from around the world to develop travel itineraries that include a 2 or 3 night stay at Hakuna Matata.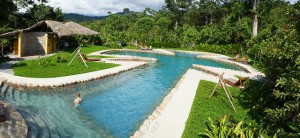 Hakuna Matata Amazon lodge is located outside the town of Archidona, just 3 1/2 hours from the city of Quito and it's international airport is just 3 hours away. Quito is Ecuador's connection to the world and is reachable by direct flights from Miami, New York, Madrid, Amsterdam, Lima and other international airports. The unique location of the lodge makes it easy to reach by car, a 3 hour scenic route that allows visitors to enjoy the transition in scenery and vegetation from the high Andes, passing through cloudforest and finally ending in the lush rainforest of the Amazon basin. Hakuna Matata itself is isolated from any town and apart from its own 120 acres of private forest it is neighbor to 12000 acres of the Colonso Biological Reserve primary rainforest. The road to Hakuna Matata also allows travelers to enjoy the Papallacta hot springs, the cloud forest trails near Baeza, amazing views, as well as visits to indigenous communities. No backtracking is necessary to return to Quito as the road continues on to the spa town of Baños and back into the Andes. After a visit to Hakuna Matata, travelers can decide to return to Quito visiting the Avenue of Volcanoes and Cotopaxi national park or they can choose to travel south to the city of Cuenca.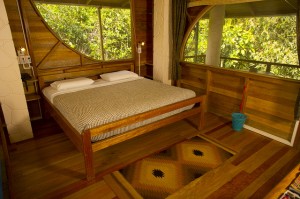 Guests staying at Hakuna Matata Amazon lodge can enjoy the following amenities:
Swimming pool filled with natural spring water.
Private beach at Inchillaqui river.
Easy to walk nature trails to explore the surrounding rainforest.
Guided horseback riding tours.
Chocolate workshop: "from the bean to the bar".
Fine Dining.
Rustic architecture in harmony with surroundings.
Rooms for couples and for families, with private facilities and hammock terrace.
Guided tours to nearby communities, rainforest reserves, animal rescue centers, pristine waterfalls, White water rafting and much more.
"Hakuna Matata is a perfect destination for our guests, we are excited to be able to offer such a wonderful property in this area of the Amazon", said Marcel Perkins Latin Trails CEO. "We have designed new itineraries that encompass visits to both the Andes and the Amazon in just 4 or 5 days and we can now showcase the best Ecuador can offer with high accommodation standards, in a safe and MOSQUITO FREE environment".
Hakuna Matata Amazon lodge caters exclusively to 38 guests in 18 rooms (cabins, lodge and supreme rooms), is open 365 days of the year and offers all inclusive programs for small groups and individual travelers.
Contributing members are responsible for the accuracy of content contributed to the Member News section of AdventureTravelNews.