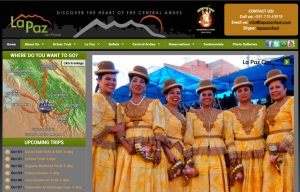 After nearly a year of hard work, seemingly endless volleys with their programmer and a revision of all of their innovative programs, La Paz on Foot has launched a new website!
Featuring updated galleries of photographs taken by staff, guides and clients, an updated and expanded selection of longer Speciality Tours such as Andean Food & Farms and Andean Biodiversity Expeditions and a much-improved section of Travel Information for visitors to the Central Andes, La Paz on Foot hopes is showing off the results of its ten years of experience in this fascinating region.
Stephen Taranto, Program and Sales Manager for the company, explained that "our original website was simpler and focused much less on the power of images to express the beauty and diversity of the Central Andes. The new site highlights the cultural and natural landscapes of the Andes and through our expanded Travel Information section we are providing our clients with valuable information to help them prepare for and then thoroughly enjoy their time in this amazing region."
The launching of La Paz on Foot's new sales and information platform coincides with their participation in the 2014 ATTA World Summit. La Paz on Foot is one of this year's three Summit Scholarship winners, an important accomplishment for the company. General Manager Tomas Sivila commented that "over the past ten years, La Paz on Foot has grown from a single, four hour product [the La Paz Urban Trek] into a full service tour operator providing travel programs, support and services throughout Bolivia, southern Peru and northern Chile and Argentina. We hope that the new site demonstrates that we are ready and able to become a much more visible force for responsible, sustainable travel in the Andes, a region we love, care deeply about, and enjoy sharing with our clients."
Check out La Paz on Foot's new site at www.lapazonfoot.com. And if you happen to be at the 2014 ATWS this year, look for Stephen Taranto at Marketplace and pretty much everywhere else at the Summit, he plans to take full advantage of this wonderful opportunity! Saludos!
Contributing members are responsible for the accuracy of content contributed to the Member News section of AdventureTravelNews.