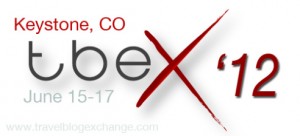 Vancouver, Canada and Keystone, CO. – Keystone Resort (@keystonemtn) and the Vail Resorts team (@VailResortsNews) in partnership with VISIT DENVER, the Convention & Visitors Bureau, will host the 2012 TBEX North America conference, founder Kim Mance announced to an audience of 600 travel bloggers and PR representatives in Vancouver, British Columbia, today.
TBEX is the world's largest annual gathering of travel bloggers, writers, influencers, and content creators, and their attendance at TBEX '12 will generate significant buzz and local revenue, as well as further promote Colorado's Rocky Mountains as an exceptional destination and the perfect spot for online and offline adventures. This online community-turned-conference-hotspot brings together wanderers and explorers whose diverse interests and travels fuel the most popular travel blogs in the world. The annual event attracts hundreds of new media travel writers from around the globe and next year's event promises to deliver a world-class experience. Keystone Resort, part of Vail Resorts, was selected as host of TBEX '12 over several other notable destinations.
"We chose Colorado for the TBEX travel writers' conference because of its breathtaking landscape, exploding culinary scene, plentiful outdoor adventure, fresh air and a revitalized downtown Denver. Social media influencers and bloggers need real-time discoveries and a constant stream of ideas to inspire their readers, and the mountains of Colorado will be the ideal spot for online and offline adventures," said founder of the TBEX events, Kim Mance.
At Keystone, you can have it all: Between the two award-winning golf courses, nearly 60 miles of the best mountain biking terrain in the country, scenic hiking, horseback riding, fly-fishing, snow tubing, whitewater rafting, festivals, films and concerts. Wind down with a treatment at the new environmentally friendly, luxury spa at the Keystone Lodge and enjoy dinner at any one of our fine dining establishments which includes two, four diamond restaurants – one of which was once a stagecoach stop in the 1800's. In addition to enjoying the many activities and amenities at Keystone, TBEX'ers will also have the opportunity to experience neighboring resorts in Summit and Eagle County, as well as the buzz of downtown Denver.
"We are thrilled by the opportunity to welcome the annual Travel Blog Exchange event to Keystone, Colo., next June. It's really an amazing opportunity to showcase all of the unique activities and natural beauty Keystone and Summit County have to offer to travel writers from around the world," said John Buhler, VP and General Manager of Keystone Resort. "Planning to ensure the experience is nothing short of the best, starts today."
President and CEO of VISIT DENVER, the Convention & Visitors Bureau, and Chairman of the Colorado Tourism Office, Richard Scharf, added, "this will probably be the largest gathering of influential travel bloggers, writers and photographers in Colorado history, a unique opportunity to tell our story to travelers around the world."
TBEX '12 will be held in Keystone, Colo., June 15-17, 2012. For more information and to book your ticket, please visit www.keystoneresort.com/tbex2012. @keystonemtn
For more information about the Colorado Rockies and active things to do, visit Vail Resorts' outdoors-focused blog www.buzz.snow.com. Stay tuned for more updates and information.
Contributing members are responsible for the accuracy of content contributed to the Member News section of AdventureTravelNews.