During the Adventure Travel Mexico (ATMEX) event in Chiapas, the keynote "speeches" took on a conversational tone. During each of the sessions, two personalities took the stage to have public discussions about adventure travel as a catalyst for economic development, which was the theme of this year's event.
The Casa Mazariegos Convention Center in San Cristobal de las Casas was the setting for these keynote conservations. On Thursday evening, August 28, Mexican travel media personality Paty Eversbusch interviewed Pati Ruiz Corzo "The Red Boar" about her innovative conservation work. Thirty-two years ago Ruiz Corzo moved to a rural community in the Sierra Gorda mountains. "I used to be a lady with lots of make-up and high heels," Ruiz Corzo told the audience. She wanted to learn to live with less so she moved in with the local people to learn about living off the land. "We didn't lose anything," she said of the past three decades in Sierra Gorda, "We gained everything."
Ruiz Corzo's organization called Grupo Ecologico Sierra Gorda (GESG) is unique partnership between protected areas (like biosphere reserves) and local residents. The idea is to shape society through "sustainable culture" which allows for economic opportunities based in conservation practices. "I do not believe the big changes we need will come from politicians or corporations," said Ruiz Corzo. Change will come from what she calls "civil society" — unappointed, unaffiliated people who love the land and consider it their moral and ethical obligation to protect it.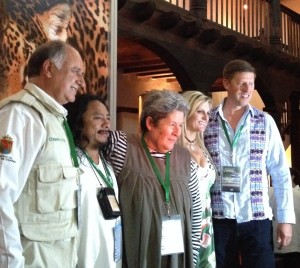 GESG strives to be a model not only in Mexico but internationally as well, providing "replicable lessons" to other protected areas. By answering Paty Eversbusch's questions, Ruiz Corzo carefully detailed the steps taken by the local people and her organization to create a model sustainable enterprise. "You have to build a program from the ground up," she said, "If you build something with your own hands, you will want to take care of it." She reiterated with a metaphor from nature: "Stay in the nest until all the eggs are hatched."
The conversation both detailed how GESG measures its return on investment ("You can measure a tree and you know how much carbon it has captured. We can compensate people for planting trees.") and moved the audience to tears when Ruiz Corzo, a professionally trained musician, led the audience in a song: "Together in our struggle they will not move us…."
Ruiz Corzo, affectionately known as the "Red Wild Boar" based on her radio handle when she first moved to Sierra Gorda, is one of Latin America's most respected environmental leaders and her conversation with Paty Eversbusch at ATMEX 2014 was an inspiration to everyone in attendance. The conversation received an enthusiastic standing ovation.
Friday's keynote conversation between ATTA President Mr. Shannon Stowell and the Editor-in-Chief of Yahoo Travel, Paula Froelich, was equally impressive. Froelich is an adventure traveler and writer, who blogs about her adventures in places like Afghanistan and Iraq at A Broad Abroad. She became the Editor-in-Chief of Yahoo Travel in April of this year and uses her role to curate great travel stories that showcase the power of experiential travel to transform destinations. Stowell used the time in front of the audience to release new data from the ATTA's 2014 Industry Snapshot, while Froelich corroborated with insider knowledge from a consumer perspective.
Mass travelers, according to the Industry Snapshot, only account for thirty-four percent of all travelers. These are travelers who will never touch adventure travel. The conversation focused then on the other sixty-six percent of travelers who are in the growing majority of tourists who want to experience life the outside of a hotel room or a cruise ship. "People with money want experiences," said Froelich about the changing nature of luxury travel. "Luxury is going home with a story," she said.
Both presenters agreed that it's paramount for the industry to stop measuring success in numbers of visitors. The impact that visitors have on a destination is much more important. Adventure travel, with its emphasis on experiences, means that every local person a traveler encounters in a destination becomes a representative of that destination, and every local person is also a part of the local economy. This means that locals have an important stake in the sustainability of the place where they live and they also become ambassadors of their home whenever a visitor encounters them.
Stowell focused on how the ATTA and the adventure industry can help Mexico continue the move toward more sustainable and profitable forms of tourism, while Froelich spoke of the trend for travelers to seek more adventurous, immersive experiences, telling local operators and government officials specifically to make sure that Mexico is more than just a "spring break" destination.
Stowell and Froelich left enough time at the end of their presentation to take questions from the audience and numerous hands shot up at once. Participants asked about everything from the problem of travelers and plastic water bottles to specific advice on destination marketing.
The themes brought up in these keynote addresses were repeated throughout the smaller and more intimate concurrent sessions and were also featured in many dialogues between buyers and operators throughout the marketplace portion of ATMEX. The purpose of ATMEX is to have a conversation about the importance of adventure travel in creating an economically sustainable tourism plan. The keynote addresses offered both inspiration and practical advice for integrating these ideas into Mexico's future.