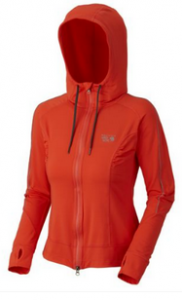 By Joslin Fritz 
Joslin Fritz is a freelance writer and international tour leader based in Seattle, Washington. You can read more of her articles on outdoor recreation and adventure travel here.
The Mighty Power Hoody by Mountain Hardwear is a worthy piece of gear to add to your adventure travel and outdoor activity wardrobe. I've used it most while cross-training and hiking, which is the primary purpose of this hoody. This being said, I'm planning to bring it to Switzerland in October to wear on the Day of Adventure at the Adventure Travel World Summit. I think it'll fare well on the road as a travel piece.
This hoody is a slim fit, with reflective piping on the shoulder and back for visibility, and handy thumb loops to keep my hands warm. There is a small pocket in the back that is useful to hold my house key or cash in when going on a run around the neighborhood. The pocket doesn't really fit my iPhone, but it would work for an iPod nano. Made of 82% polyester and 18% elastane, this stretchy fabric hoody is effective in keeping me dry and wicking away moisture.
This hoody will be perfect for exploring Interlaken, the pre-summit adventure location that I'm signed up for. Here I am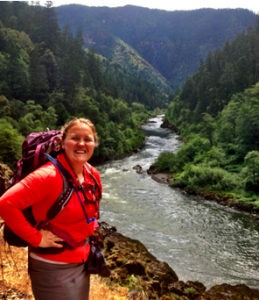 wearing the hoody in poppy red on the trail in southern Oregon.
The full zip of the hoody makes it feel like a jacket more than a hoody, and so on colder days I layered it with a base layer and vest. I liked the versatility that the zipper provided in this aspect.
The Mighty Power Hoody retails for $95 and can be bought here on the Mountain Hardwear website.