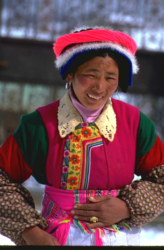 Due to protests and cultural unrest, borders to the Chinese province of Tibet are now completely closed to foreign tourists, after being severely limited for much of the summer. There is no indication of when they will reopen, and making any plans to travel to Tibet proper is a risky gambit.
The good news is that travelers can experience the cultures, scenery, monastic architecture and Tibetan Buddhism of Tibet easily and authentically without crossing into the borders of the Tibet Province. JOURNEYS International of Ann Arbor Michigan has been creating and operating group and individual travel programs in several Tibetan Buddhist areas of the Himalayas and Tibetan Plateau since 1978. While indefinitely suspending travel to the province of Tibet due to closure by Chinese authorities, JOURNEYS continues to offer travel to the culturally Tibetan areas of Yunnan province in China; Ladakh, India; and the high Himalayan valleys of Nepal and Bhutan. These are areas where cultures deeply rooted in Tibetan Buddhism still thrive unrestricted by government oppression or control.

"Tibet as a region, a culture and an idea extends far beyond the borders of the Chinese province of Tibet," says JOURNEYS founder Dr. Will Weber. "The quality of encounters with Tibetan Buddhism and with Tibetan Plateau environments is now much better in Yunnan, India, Nepal and Bhutan than it is in Lhasa and Chinese-controlled Tibet."
The main tourist season in Tibet had been April to September. But Weber points out that in the peripheral areas around the Tibet Province, the season is much longer, and fewer permits and restrictions apply. Within Tibet, pictures and literature about the Dalai Lama are strictly forbidden. Outside of China, the Dalai Lama is revered and celebrated as a living God. Monasteries and temples within Chinese Tibet are essentially maintained as museums, not as religious institutions. In the Ladakh region of India and in Nepal and Bhutan, Tibetan Buddhism is practiced much the same now as it has been for hundreds of years. Visitors are free to discuss spirituality and religion with local people, and often meet Tibetans in exile who will talk openly. In Chinese Tibet it is dangerous for locals to talk openly with tourists.
"Certainly there are spectacular sites in Lhasa and the heart of Tibet," Weber admits, "But even as that area was accessible recently, tourists were discouraged by the commercialization of the temples and Potala and by the militarization of Tibet. There is a heavily-guarded, theme-park feeling to the sacred sites that makes many culturally-sensitive travelers very uncomfortable."
For more details on specific trips incorporating Tibetan culture and themes into travel programs see the JOURNEYS webpages for Nepal, Ladakh, Yunnan and Bhutan.
Contributing members are responsible for the accuracy of content contributed to the Member News section of AdventureTravelNews.