World Premiere of DUK COUNTY at Telluride Mountainfilm 2013, May 23 to 27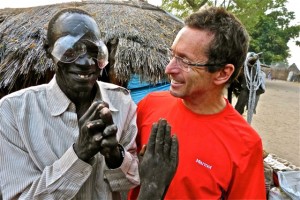 Boulder, CO. — After 40 years of civil war, John Dau, has seen his native country, South Sudan, ravaged and his life forever changed. In 1987, mercenaries sent by the Northern Sudanese Army forced Dau—then just 12 years old—and hundreds of other young boys to flee their home in Duk County, and most of Southern Sudan. The boys' mass exodus swelled into tens of thousands as they reached Ethiopia and later Northern Kenya on foot with many dying of thirst, starvation, disease and wild animal attacks en route. Aptly branded the "Lost Boys of Sudan," they scratched out their existence in refugee camps for more than a decade.
In 2001, Dau was one of 3,800 "Lost Boys" who were relocated to the U.S. After building a life in Syracuse, N.Y., he returned to South Sudan and founded the Duk Lost Boys Clinic near his village in the heart of Duk County. Dau built the charitable medicine clinic to restore hope to the war-torn region by providing treatment for everything from malaria and tuberculosis to cobra bites. But there was one critical missing element: eye care.
Scheduled for its world premiere at Telluride Mountainfilm 2013 in Telluride, Colo., from May 23 to 27, the new and poignant documentary DUK COUNTY: Peace is in Sight in the New South Sudan, chronicles Dau's vision to bring eye care to the clinic near his village. The 2013 indie-style film follows a bold medical mission to South Sudan in December 2011 led by Dr. Geoff Tabin and Dr. Alan Crandall, two world-class ophthalmologists committed to restoring preventable blindness in the developing world, and who share powerful stories of the lives they transform.
"DUK COUNTY is an uplifting story about what can be accomplished when remarkable social entrepreneurs (like Dau, Tabin and Crandall) all converge with one clear and elevated goal—in this case treating blindness and restoring productive lives—in a decimated, underserved region of South Sudan," explains Jordan Campbell, the film's director.
Campbell, who is best known for chronicling his international mountaineering adventures as a writer and photographer, joined Tabin and Crandall's team just after South Sudan had declared its independence from the North in July 2011. In addition to field reporting for National Geographic Adventure (1-see story link below), Campbell served as a clinic volunteer with pre-op and post-op care for eye surgery patients.
Blindness is a scourge in the developing world. Approximately 1 in 50 people are crippled by vision loss from a variety of preventable conditions. The most common is advanced cataract blindness. Tabin and Crandall's small team, composed of doctors, assistants and photojournalists from North America, conducted a 5-day surgical strike against blindness during a tenuous reprieve from South Sudan's notable inter-tribal violence. In total, the medical mission performed 288 cataract and other sight-restorative surgeries at the Duk Lost Boys Clinic.
DUK COUNTY captures the euphoria experienced by patients who have just had their vision restored along with productivity and social status. Tears of joy are common when bandages are removed, and children, parents, and grandparents see one another after years—some even for the first time. Not only can adults earn an income for their families, but treated children are now able to attend school and grow into adulthood with a future as restored members of their society. Not only are patients with restored vision again productive, but their lives, especially older patients, are significantly extended.
While audiences may become euphoric watching the film, they should be prepared for DUK COUNTY's dark undercurrent of reality. South Sudan has been has been fraught with inter-tribal violence over land and cattle for decades. Despite the country's recent independence, tens of thousands of AK-47 assault rifles remain unaccounted resources in arming the violent civil conflict. Just days after the team departed for the U.S., a devastating flash of violence erupted 100 miles from the clinic resulting in an estimated 3,000 deaths.
"This terrible tragedy in the wake of our departure became the impetus for DUK COUNTY," explains Campbell, who followed the massacre's aftermath closely through the BBC. Campbell later learned that one of the clinic's patients, an elderly man, "Lonnie," who was successfully treated for bilateral cataracts, died during the attack. "I was conflicted with polarizing emotions; we had initiated so much good in the region only to see it descend into tribal conflict. In the end, I wanted to make a film about Tabin, Crandall and Dau's pioneering work, but I also felt like audiences needed to understand more about South Sudan's significant challenges," he adds.
DUK COUNTY is a story which documents hope, vision and possibilities for peace in an oasis surrounded by looming civil conflict. During film production in 2012, Dau's vision for the clinic and for intertribal peace in South Sudan grew stronger. Through word of mouth, people with blindness from many warring tribes have traveled to John Dau's Lost Boys Clinic in the heart of Duk County and further brightened hopes for peace in South Sudan.
DUK COUNTY Highlights:
Title: DUK COUNTY: PEACE IS IN SIGHT IN THE NEW SOUTH SUDAN
Duration: 37:05
Genre: Independent; Documentary; Adventure
Director: Jordan Campbell
Editor: Michael Herbener
Producer:  Jordan Campbell and Michael Herbener
Lead Cast: John Dau, Dr. Geoff Tabin and Dr. Alan Crandall
All Cast: Dr. Roger Furlong, Julie Crandall, Dr. David Reed, Dr. Lloyd Williams, Ace Kvale and Michelle-Bar-Evan
Narrator: Jordan Campbell
Sponsors: Marmot Mountain LLC
Official Selection(s) as of May 15, 2013
Marmot Presents: DUK COUNTY (2013) Produced by Jordan Campbell & Michael Herbener from Duk County on Vimeo.
Contributing members are responsible for the accuracy of content contributed to the Member News section of AdventureTravelNews.