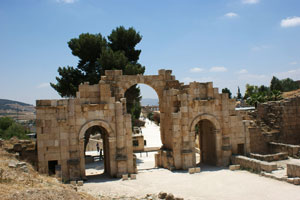 The Jordan Inbound Tour Operators Association (JITOA) announces the launch of Jerash Adoption Program 2010-2011 on the World Environment Day, 5th of June 2010; under the second phase of JITOA "Don't mess with Nature" the national tourism environmental initiative.
The initiative committee decided to adopt Jerash Archeological site for one year being one of the most visited tourism destinations in the kingdom, which requires implementation of some environmental practices and enhancements of the site view.
Under the Jerash Adoption Program 2010-2011, JITOA will conducted a number of activities and campaigns during the month of June, July and August which will include cleanup campaigns, trash bins installation workshop, in-site signage maintenance, and environmental film screening and many more. The activities will focus on enhancing the overall view of Jerash natural and cultural recourses of the site and eliminate visual pollution. This initiative is supported by Jerash Municipality, Jerash Tourism Directorate, and Jerash Antiquities Department.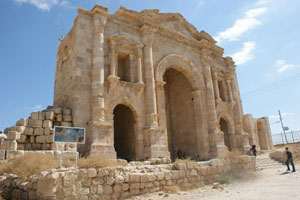 The second phase will involve a program to clean-up the site from litter, and help Jordan tour operators and tourism service providers to get involved and adopt eco-friendly and recycling practices at their premises. In addition to helping local communities produce eco-friendly products and handicrafts made from recycled material and sell them to tourists. JITOA earlier launched under this phase an environmental tourism online network in the aim of encouraging eco practices in the tourism industry being one of the contributors to environmental sustainability. JITOA aims to create a superior conscious effort to make Jerash a greener city, and reach for all supporters from the public and private sectors to help us in making it a green destination.
"Don't mess with Nature" was established last year under the patronage of the Ministry of Tourism and Antiquities and supported by the Ministry of Environment, depending on active and ongoing public and private-sector partnerships to protect tourist areas environmentally. This is through long term strategic plan to eliminate the trash visitors observe at and between touristic sites, and help change the culture to an anti-littering mindset, working to change the behavior of Jordanians through environmental awareness campaigns supported by the media and the educational system.
It is worth mentioning that visitors' numbers at Jerash increased significantly during the first quarter of this year, both local and foreign visitors. Therefore, JITOA foreseen the need to adopt this site and work on stimulating interests to move on towards preserving this important archeological landmark that is frequently visited by thousands of visitors every year.
Contributing members are responsible for the accuracy of content contributed to the Member News section of AdventureTravelNews.