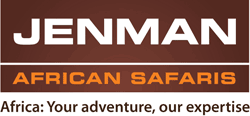 Jenman African Safaris is a family-run business with brothers Garth, Brendan and Andrew Jenman having grown up in Southern Africa and spending well over a decade exploring the region, travelling and working in the hospitality industry. Their camping division, Campwild Tours and Safaris, was created in 1993. Since then the company has grown at a steady pace and has achieved a reputation for reliability, safety, high service standards and excellent value for money. With time, the brothers diversified their product range and, catering to their customers needs, started running scheduled as well as tailor-made Lodge style safaris. Thus in 1998 Jenman African Safaris was founded as the holding company and Campwild Tours and Safaris became Jenman's camping division. In 2005 the brothers once again saw a gap in the market for exclusive upmarket tailor-made lodge-style safaris and they created African Luxury Hideaways with Andrew Jenman heading up this division.
Our philosophy: To provide comfortable, more personal and interactive small group safaris. Jenman African Safaris has positioned itself to be able to provide their customers with the product they require, whether its a budget or an upmarket safari, catering for those who are looking for a value for money African Safari experience.
Jenman African Safaris is a leading provider of safari and adventure travel in Southern and East Africa. Based in Cape Town and with operational offices in Namibia, Botswana, Madagascar and Zambia, Jenman African Safaris offers small group scheduled and tailor made travel across Southern and East Africa. Family owned and managed, Jenman has many years of experience in operating safe, comfortable, reliable and fun-filled tours to Southern and East Africa's most spectacular destinations.
Jenman offers smaller more personal, highly interactive and flexible tours for the more adventurous traveller. We delight in designing tailor made travel itineraries for singles, couples and groups. Choose from lodge safaris, adventure safaris, luxury safaris, camping safaris, self-drive trips, day trips, walking safaris, family trips, flying safaris and accommodation only arrangements. Jenman take pride in its team of guides and rangers, all of whom are African locals. Our vehicles are designed for maximum comfort and safety whilst navigating big distances. Quality equipment is also provided on all camping trips and we use only approved lodges which are clean and comfortable.
Safari / Adventure trips offered in 14 fantastically diverse countries
South Africa
Malawi
Lesotho
Mozambique
Swaziland
Tanzania
Namibia
Zanzibar
Botswana
Kenya
Zambia
Ethiopia
Zimbabwe
Madagascar

Angola
What makes Jenman Different?
Over 10 years experience in running safaris
Small Group Policy on our scheduled tours with a maximum of 10 clients per schedualed tour but can run larger groups for customised requests.
Can tailor-make any Mobile Safaris throughout Southern and East Africa as well as Madagascar
We offer full Destination Management services
Customized Safari vehicles for small to large groups depending on terrain.
Qualified local guides as well as special interest and language guides of whom all are members of appropriate guiding associations.
Family-run company with highly motivated and experienced staff.
Central reservation office with 24-hour response time.
Operational offices throughout Southern and East Africa to guarantee a high standard of service and 24-hour emergency phone
10.Responsible Tourism policy – we make use of eco-friendly lodges and have a responsible recycling policy at all our offices.
Need an Exclusive Itinerary?
At Jenman we are happy to tailor itineraries to suit the needs of your passengers. We often have operators wishing to use our services and "overbrand" the tour / safari as their own. We are well used to this type of arrangement and fully able to make a specific schedule fit your needs.
Company Information:
Jenman African Safaris
po box 36146
glosderry · 7702 · Cape Town
phone: +27 (0)21 683 7826 · fax: +27 (0)21 674 0248
mail: [email protected]