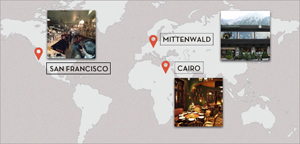 AFAR just marked the most significant event since the launch of AFAR Magazine in 2009. The launch of the AFAR mobile app is, as our community manager Allison Murray says, "one big step for AFAR, one huge step for experiential travel."
AFAR has defined and served as the voice of experiential travel. Now with our new mobile application, we are helping everyone have great travel experiences no matter where they go.
Our new app is built around the concept of Highlights. Highlights are very simple in structure: a photo, title, short description and location (map) of a great travel experience.
But this simple structure supports a wealth of information—and that's what makes Highlights unique. They're not just the pretty pictures you see with any number of photo-sharing services; the best Highlights reveal a particular experience and the place where you can relive it.
We know of nothing else like this. Add to that an incredible community of travelers hungry for experiences that guidebooks won't offer, and top it off with AFAR Magazine, as host—and you have something very, very special.
We've published 15 fabulous issues of AFAR magazine that contain multitudes of places where we've had great experiences that you can read on the AFAR mobile app and AFAR.com.
But our world is brimming with countless experiences and there are only so many of us working here at AFAR. That's where our amazing community comes in. And we've been gobsmacked by the quality of Highlights that you are creating. Like this tip for seeing Kolkata's wholesale flower market. Or this mirage of a champagne bar—but it's real!—on the slopes of the Swiss Alps. Or—I have a hard time stopping—this trip deep into an ancient salt mine in Austria.
We admit that it takes more effort to post a Highlight than it does to post a mere status update or a pretty photo. But the value that a Highlight creates for the traveler—as a journal of sorts—and for the viewer—as a dreaming and planning device—makes it more than worthwhile.
We've already got over 4,000 Highlights of great experiences in places all over the world, and some of these are likely right in your neighborhood or where you are thinking of traveling next. And this number is going up dramatically every day—we've seen some great ones with our Catch contest.
Check it out. You can browse and save your favorite Highlights so you can experience these places yourself, and you can share them with your friends. Maybe (hopefully) you will be inspired to create your own Highlights.
If you have an iPhone, you can download the AFAR mobile app from iTunes. (Android version is coming soon!) It's free.
The world just got a little bit smaller, unique travel experiences just got a lot more achievable and experiential travel just got a lot bigger. We look forward to experiencing it with you.
Contributing members are responsible for the accuracy of content contributed to the Member News section of AdventureTravelNews.