Responsible tour operator Intrepid Travel – which has been carbon neutral for nearly 10 years – represented the tourism industry alongside hundreds of B Corp certified businesses that joined forces at the 2019 UN Climate Change Conference, COP 25, in Madrid to declare their commitment to net zero emissions. In front of more than 50 world leaders and climate activists from around the globe, the group's advocacy raises the bar on responsible leadership, proving that business success and climate action are compatible.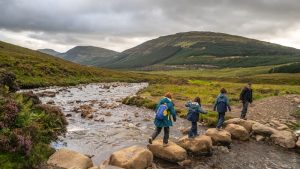 The collection of B Corp certified businesses (companies that meet the highest standards of verified social and environmental performance, public transparency, and legal accountability to balance profit and purpose) have stated their intention to become carbon neutral by 2030, and Intrepid Travel is calling on the tourism industry to join their commitment to net zero emissions.
Intrepid – the world's largest certified travel B Corp – became a carbon neutral business in 2010 and has committed to becoming climate positive next year.
Co-founder Darrell Wade virtually attended the event to represent the adventure travel company's commitment to further climate action, in a video presented to attendees.
"While it's imperative that the world leaders gathered at COP25 work collaboratively towards decisive government action to combat our urgent climate crisis, it is the responsibility, and obligation, of businesses to do whatever is in their power to preserve this earth for our future generations," said Wade.
This commitment is just one more step in the company's work and advocacy in the climate space:
· In 2020, the responsible business leader will be taking its climate action even further by becoming the first "climate positive" travel company in the world, offsetting its operations at 125% to create greater environmental benefits by removing additional carbon dioxide from the atmosphere while decarbonizing through reductions in emissions from its trips and operations.
· This year, the company's not-for-profit arm, The Intrepid Foundation, joined forces with the Climate Foundation, a U.S.-based non-profit, and the University of Tasmania, to crowdfund over $600,000 AUD for a new marine permaculture initiative that will regenerate marine ecosystems in Tasmania and sequester carbon from the atmosphere — one of the climate change solutions presented in the new environmental documentary 2040, of which Intrepid was a sponsor.
Intrepid has committed to science-based targets to reduce emissions.
The tour operator has been a carbon neutral travel company since 2010, as a result of measuring the total carbon emissions generated by its trips and offices and offsetting these by investing in renewable energy projects.
In late 2018, we revised our reporting methodology in line with Climate Active, formally known as the National Carbon Offsetting Standards (NCOS), under the Australian Government's Carbon Neutral Initiative.
Beginning in 2020, Intrepid will be offsetting flights for customers who book their airfare directly with the company.
Intrepid is investing $100,000 AUD in climate change scientific research to support an advancement in the understanding and protection of the Antarctic.
Intrepid is the first travel company in Australia to invest in green deposits, which support assets and projects consistent with delivering a low carbon and climate resilient economy.
The company has set a goal to transition to 100% renewable energy in its offices by 2025 and on its trips by 2030.
Intrepid Travel is actively involved in developing less carbon-intensive alternatives, already using 21 different kinds of public transportation methods on its trips, and is reducing flights within itineraries.
"We feel it is our responsibility as a leader in the travel industry to advocate for emission reductions and climate policies around the world. After all, what would travel look like with our cities underwater, or our reefs depleted of their biodiversity?" continued Wade.
"Thirty years ago, we wanted to become the best travel company in the world. Now, our goal is to be the best travel company for the world."
Contributing members are responsible for the accuracy of content contributed to the Member News section of AdventureTravelNews.