New tours incorporating activities and accommodations that are powered by people instead of machines showcase an innovation in sustainable travel
Intrepid Travel—the world's largest adventure travel company—is leading the sustainable travel industry with a focus on more human-powered experiences and trips for its responsibly-minded travelers. These tours that incorporate activities and inclusions that generate less environmental impact—such as walking and camping—are the future of a lower impact travel industry.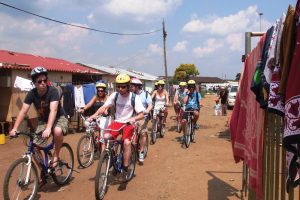 Intrepid Travel has been carbon neutral since 2010, offsetting each of its 1,000+ trips by investing in renewable energy projects such as wind power initiatives in India, Mexico, Turkey and the USA, a solar farm in Mauritius, reforestation programs in Kenya and Australia, and water filter initiatives in Cambodia.
"It's not enough for tour operators to simply offset emissions. As a purpose-led business, Intrepid Travel has always been committed to developing tours that are low impact through a handful of ways, such as limiting the number of travelers on our trips," said Leigh Barnes, Chief Purpose Officer for Intrepid Travel—a new position recently developed by CEO James Thornton to fulfill the company's founding philosophy of helping people and the planet through travel.
"Tourism, as beneficial as it can be to local economies, can also be a source of strain on a destination when not done responsibly, which is why we're continuing to focus on expanding our human-powered experiences."
These low-impact trips include:
South Africa Expedition: Kruger Walking Safari: On this seven-day trip, travelers will venture from historic Johannesburg to the unexplored north of Kruger National Park for an unforgettable wildlife experience. While safaris are notorious for sitting during long days in a 4×4 truck to spot animals, this experience takes travelers out of the truck and onto their feet to explore the northernmost reaches of Kruger on multiple walking safaris led by a knowledgeable guide. The trip also includes a bicycle tour of the historic Soweto neighborhood of Johannesburg (in place of a bus tour), and four nights of camping near the banks of the Luvuvhu River, where there is limited power and no running water.
Morocco Expedition: Walking with Berber Nomads: On this eight-day trip, travelers will become part of the biannual migration of nomadic Ait Atta tribes people, a tradition that has taken place through the Atlas Mountains of Morocco for over 4,000 years. Walking four to five hours each day, guests will experience ancient nomadic culture and participate in daily chores, such as milking goats, tending animal herds and traditional bread making, during this rare opportunity to live among the locals in Berber villages. Sleeping in moving campsites, travelers help with setting and packing up the sites each morning and night.
Djibouti Expedition: Footsteps of the Afar: On this 11-day trip, travelers will see Lake Assal and Ardoukoba Volcano as they hike, snorkel and swim through Djibouti, experiencing life like a nomad as they traverse the East African country's landscape and float in one of the world's saltiest lakes. The tour includes three hikes, multiple walking tours and accommodations in campsites and bungalows with limited facilities and power, even spending a night sleeping under the stars with no tents.
"It's nearly impossible to eliminate all vehicle transportation and activities that require machine power from our trips, but it's important for us to minimize our output whenever possible and continue to make more considered choices. With these majority human-powered experiences, we're not only ensuring a lower environmental impact; we're also inspiring travelers to rely on their own energy, mindset and power to see the world in a whole new light."
Intrepid has recently introduced new cycling itineraries—such as Cycle Jordan and Cycle Bali— following a 62% increase in bookings on its cycling-themed tours over the last year, in addition to launching a new range of multi-active trips—such as Peru: Bike, Climb & Hike, Vietnam: Hike, Bike & Kayak, and Costa Rica: Raft, Snorkel & Kayak—all of which are designed for travelers to see a destination through a different lens, with active adventures powered by the travelers themselves.
Intrepid Travel, a signatory to the United Nations Global Compact (UNGC), continues to take other measures to ensure its trips are low impact by design, such as: keeping group sizes small, using public transport where possible, staying in locally owned and simpler styles of accommodation, and eating at locally owned eateries where the food has been locally sourced.
Contributing members are responsible for the accuracy of content contributed to the Member News section of AdventureTravelNews.