This Women's Equality Day, Monday, August 26, Intrepid Travel—the world's largest B Corp, adventure travel company—is so proud to celebrate five important feats the business has achieved for women across the globe this year, empowering women to find economic and social development through tourism.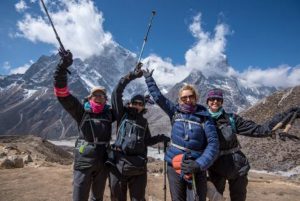 5. Provided economic development for local communities through empowering women
Around 60 percent of its staff are women including local leaders in 120 countries, it also provides local women employment through new locally-led experiences like: Community-Based Tourism projects in countries like Myanmar and Vietnam, encouraging employment for women who were often considered 'housewives'; home-cooked meal experiences led by women in destinations like Turkey.
Through its Turkey: Women's Expedition, Intrepid Travel and its not-for-profit, The Intrepid Foundation, began to support Small Projects Istanbul, a not-for-profit that supports Syrian refugees through an earring making co-op. Taking travelers to visit with the women and shop through the product, we're directly supporting and encouraging these Syrian women to find hope through tourism dollars and support of global female travelers, who want to give back.
4. Created gender balance on its Board of Directors
Launching into 2019, Intrepid added two women to its Board, making it a 60:40 gender ratio; its Global Leadership team has been split evenly between genders for several years.
3. Led the fight for gender equality in Moroccan tourism
In Morocco last year, Intrepid's General Manager fought against the government and local authorities to open government-regulated tour licensing to women – a first in the country. Since then, Intrepid has not only had 12 women become licensed tour guides in the country, but it's employed these women on its tours, specifically this year's departures of its Morocco: Women's Expedition.
2. Launched five Women's Expeditions, rooted in economic empowerment
Led by Jenny Gray—Intrepid's global product manager, responsible for the logistical operations of the business's 1,000+ tours—last year Intrepid Travel launched a one-of-its-kind range of Women's Expeditions, providing women the unique opportunity to benefit—socially, economically and emotionally—from women travelers. The trip range quickly became one of Intrepid Travel's most-popular ranges, prompting the business to expand the range from four limited-edition departures to a full-range of 36 departures. This year, it also more than doubled the range of Women's Expeditions expanding into Kenya, Nepal, India and Turkey, originally running in Morocco, Jordan and Iran.
1. Reached its goal of doubling female tour leaders – six months before target
Early this year, Intrepid announced it doubled its cohort of female tour leaders from 153 to 314 – six months before its target. Two years ago, Intrepid set a company-wide goal of doubling its female tour leaders by 2020, a feat in the traditional countries it operates in.
Whether walkouts from business moguls like Google or countries that are only instating laws to allow women to travel and drive a car, there are many women still struggling to find parity in wages, job opportunities and social and political climates. Despite government-wide movements, women earn only 10% of the world's income and, on average, earn half of what men earn, according to the UN.
Contributing members are responsible for the accuracy of content contributed to the Member News section of AdventureTravelNews.