This year, Intrepid Travel is celebrating Earth Day by revealing that its Offset Earth project, which runs in conjunction with its not-for-profit arm The Intrepid Foundation, has reached over 100,000 trees. The monthly subscription service allows customers to offset their personal emissions through Gold Standard-certified carbon credits and tree planting, while encouraging users to make positive lifestyle changes for the environment.
As part of its fight against climate change, Intrepid Travel is providing more sustainable ways to travel, including offsetting every trip taken by one of its travelers. Although currently travel is not an option for individuals around the world, the tour company is still committed to doing its part for climate action by matching trees planted with every subscription through its Offset Earth page.
"Planting over 100,000 trees in Kenya's Intrepid Forest is a fantastic milestone to hit this Earth Day and we want to thank all those who have subscribed to our Offset Earth project to date. It's a nice reminder that even when we have to be apart, we can still work together to change things for the better," says James Thornton, CEO of Intrepid Travel.
Intrepid's trees are currently being planted in Kenya's Kijabe Forest, a short drive from Nairobi, by Eden Reforestation Projects and local community partners, which travelers will get to visit on select Kenya itineraries. In line with the company's values, the reforestation project also employs locals, many of whom are single mothers, to help plant the trees and keep the forest safe.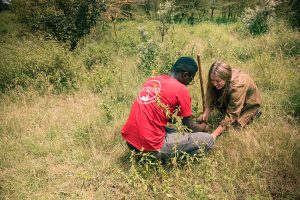 Carbon offsetting enables travelers to limit their carbon footprint by removing additional carbon dioxide from the atmosphere and reducing emissions, while the world explores new technologies and solutions to reduce our emissions globally. The starting monthly subscription rate allows users to plant 12 trees, matched by a further 12 on behalf of Intrepid Travel. This tree planting, along with the purchase of Gold Standard-certified carbon credits, effectively prevents 22 tonnes of carbon dioxide from being released into the atmosphere each year.
In addition, the subscription service helps users set goals to reduce their carbon footprint overall, such as refusing single-use items, reducing their meat intake and taking public transportation to work.
"The world may have changed dramatically over the past few months with travel as we know it coming to a standstill," says Thornton. "But as a company we remain committed to being climate positive and are grateful that our loyal customers feel the same. Travel will only rebound stronger if it rebuilds more responsibly."
To sign up to Offset Earth and have your trees matched by Intrepid, visit https://offset.earth/intrepidreforest. Once subscribed, users can watch their digital forest grow, check in on the Kijabe project, and set goals to reduce their annual carbon footprint.
For more information, visit: https://www.intrepidtravel.com/adventures/travel-powered-forest/
Contributing members are responsible for the accuracy of content contributed to the Member News section of AdventureTravelNews.