"Been there – done that!"
Those are words that no destination planner, community leader or tourism program manager should hope to hear. The phrase suggests that one visit is enough. In essence, it says, "I will not be back. I made no lasting emotional connections with your people or the place. There's nothing for me here or nothing that I can really recommend to friends and family." Ouch!
The National Association for Interpretation (NAI) is devoted to training planners, managers and guides to design experiences that help tourists make lasting emotional connections with people and places that they visit. Social science research suggests that giving information alone does not get that done. And yet many guides at destinations, attractions and communities bury their guests in data. There is no social science research to support the notion that "learning, in and of itself, leads to loving." Think about your classroom studies. Did learning the elements in the periodic table make you love chemistry? Now transfer that thought to a recreational or nonformal learning situation like a vacation trip. Do the dates on the labels of 2500 artifacts behind glass in a museum make you crave a return trip? Someone can be expert on a topic and still have no passion for it. So what helps make those emotional and intellectual connections that will create meaningful experiences for your guests?
In an ideal tour, the customer's experience should create a personally meaningful relationship with the community, the culture, and the place that includes a deeper understanding of local stories and traditions. The facts of when a place was built, how many stones it took, how many people live there, and other miscellaneous factoids, may be important parts of the story, but without some deeper connection, the facts will be forgotten shortly after the visit and leave no lasting impression. On the other hand, social science research tells us that it takes deep thought on the part of the guest to create that relationship. If the facts are framed within a theme or message, they are more likely to stick. Having an experience that involves hands-on activities and conversations rather than passively observing or listening to lecture-style guiding helps cement that message and create advocates for sustainability of the resource around which the experience is built. This approach is called interpretation, defined by the National Association for Interpretation (NAI) as "a mission-based communication process that forges emotional and intellectual connections between the interests of the audience and the meanings inherent in the resource."
In an ideal tour, the customer's experience should create a personally meaningful relationship with the community, the culture, and the place that includes a deeper understanding of local stories and traditions.
NAI is a United States based professional organization for those who practice the art and science of interpretation in diverse settings such as world heritage sites, historic sites, museums, nature centers, zoos, aquariums, cruise ships, ecotours, adventure tours and other travel venues. NAI's training program puts guides and hosts in front of guests with thoughtful strategies for building lasting relationships that achieve the objectives of the organization, business, community, or agency. The four-day Certified Interpretive Guide training helps guides learn how to facilitate guest experiences that are purposeful, organized, enjoyable, relevant, and thematic using an interpretive approach to communication. The two-day Certified Interpretive Host training gives maintenance workers, housekeepers, waitstaff, receptionists, bus drivers, campground attendants, sales clerks and varied other workers the tools they need to have thoughtful conversations with guests that help connect them to your community, culture, experience, company or place.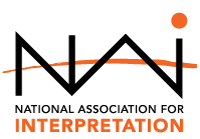 NAI has trained more than 800 trainers around the world in the past ten years and more than 8,000 Certified Interpretive Guides are now working in over 40 nations. Guide and host course training materials are currently available in English and Spanish, with translations to Italian, French, Mandarin and Japanese on the way. More than forty universities and colleges in the United States are using the NAI curriculum as part of their undergraduate coursework so some students have a certification credential even before they graduate, making them valuable additions to tour companies looking for seasonal help. In fact, many companies and governmental agencies require an NAI certification either before or shortly after hiring.
To participate in NAI's training and certification program, you can either hire a Certified Interpretive Trainer or have your own staff members become Certified Interpretive Trainers so that they can use the NAI curricula units for Certified Interpretive Guides and Hosts. The curricula do not focus on site-specific content, but on process and application in the field, augmenting the training that is often done on-site related to a specific resource. Although it is useful to certify individuals for quality branding, certification is always optional. Many companies use the curricula to improve their services but choose not to certify individual staff as Guides or Hosts. Still others allow the individuals to choose whether they want certification or not. And some use the credential to brand their company as having met an internationally-recognized standard for the interpretive approach to communication.
In addition to guide and host training, NAI also trains interpretive planners to create holistic visitor experiences. Planning courses focus on a model that begins with the decision a tourist makes to travel and ends with the change in commitment of the traveler if the experience really made a difference with them. The planning course is designed to travel to a specific community or site where the coursework centers around an actual planning project. Past courses have taken on the challenge of planning a new tour attraction in Denali National Park in Alaska; redeveloping a downtown walking tour in Fort Collins, Colorado; and planning the attractions for a forest reserve run cooperatively with private and public partnerships in Humucao, Puerto Rico. The planning course lasts five days and attracts architects, landscape architects, exhibit designers, planners, marketing specialists, program managers, and interpreters who want to learn how to use a thematic approach in designing visitor experiences with lasting results.
Well-designed experiences with trained interpretive guides and hosts have the power to bring people back again and again with a deeper understanding of the unique and authentic qualities of a place, a culture, a community, an organization and an ecosystem. People love to try new things but they also keep coming back to the places that light a fire in them. Even better, they share that passion with their friends, helping to grow the businesses of the tour operators and local people that support their activities.
Basic to NAI's training are core values about sustainable practices, conservation and protection of natural and cultural heritage and respect for diverse cultures. You can learn more about the organization at http://www.interpnet.com and you can contact Lisa Brochu ([email protected]) or Tim Merriman ([email protected]) about the opportunities to provide training or services with your programs and projects.