Editor's Note: This article is a Q&A between the ATTA and the founder of the Innocent Eyes Project, David Noyes. All photos in this article are by David Noyes, with all rights reserved.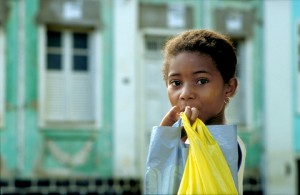 Can you tell us how Innocent Eyes Project was born? What made you decide to do this?
I spent the first 15 years of my career in the Pollyanna-world of illusion and make-believe known as advertising. I worked with some of the top ad agencies, design firms and corporations in the country and truly enjoyed what I was doing.
In 1997, I went on assignment in Bahia, Brazil to photograph several cigar-manufacturing facilities. That trip introduced me to a new and different reality. For a young professional who had never been outside of the U.S., it was an exciting and unfamiliar world of exotic cultures and customs. I learned that language wasn't necessary to make an authentic human connection across cultures. It fueled my interest in working on location in remote areas of the world, and it inspired me to search for something a bit more "real" in my life.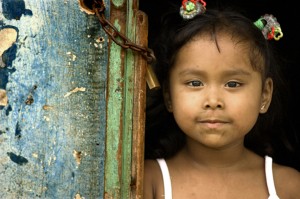 Following the tragic events of 9-11 in the U.S., my career took a different direction and I embraced my newly found passion for travel and adventure. As a travel writer and photographer I have had the opportunity to visit some of the worlds most remote and exotic places. I have witnessed both the beauty and tragedy of the human condition. I have also learned that the "real" I was searching for is often harsh and unforgiving.
Over the years I have asked my guides and village elders what I can do to help their communities.  Their answer was almost always "educate the children." With so many disasters and immediate needs, it is not surprising that less than 2 percent of the world's humanitarian aid goes to the education sector. In many remote areas of the developing world the kids who would benefit the most from an education often don't have access to schools, teachers or books.
The mission of the Innocent Eyes Project is to financially support grassroots child education programs in the developing world and give voice to children who live below the radar of governments and large charitable organizations. We will bring their stories to travelers with the means to help.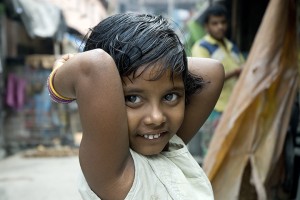 There are a lot of worthy projects doing good work in the developing world, but education is different. It is a long-term commitment. It can take a decade or more before a young child who goes to school for the first time will grow up to contribute to his or her community. But it is clear to me that the elders are right. The only way to make a lasting difference in the world's poorest communities is to educate the children.
Throughout my travels, I photographed the children I was meeting and came to realize a simple truth: It is impossible to travel to remote corners of the developing world and not be touched by the innocent eyes of a young child. Increasingly the stories I wanted to tell were not about some luxury resort or my personal challenge to climb something, I wanted to share stories about the beautiful kids who lived along the edges of my adventure.
The story I want to tell is not a sad story. It is a story about the hopes and dreams of children and families. It is also about the gift we share as travelers to experience the world and the desire to give back to the people and places that have touched our lives.
Why did you decide to structure the organization the way it is? Can you elaborate on how this organization might run differently than others with similar aims in the past?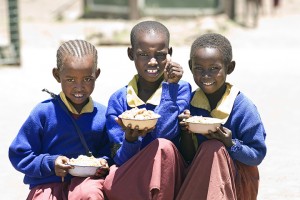 It can take years or decades for a foreigner to build trust with a local community in a remote or underserved area of the developing world. It also takes a person with a unique passion and commitment to navigate the complexities of local cultures and learn the skills required to deliver services under challenging circumstances. Often these communities are skeptical or wary of outsiders, because often, unsuspecting foreigners with the desire to help are exploited or overwhelmed by the magnitude of the need.
Innocent Eyes Project won't be directly operating in-country. Our role is find worthy projects and provide funding for organizations already working to educate children in the developing world. So you could say that we hope to become the "United Way" of the Adventure Travel industry by partnering with corporations and travel professionals who have a desire to make a difference in the lives of children but don't have the time or resources to locate, vet, fundraise or monitor projects of their own.
Over the years I met some very special individuals who saw a need, addressed a problem and were determined to make a difference in the lives of children. Many of these dedicated people are American travelers who partnered with a local individual or community to build a school or library, hire a teacher, help pay for books, supplies and uniforms, or cover the tuition for a child in need. These are the true hero's of Innocent Eyes Project. We have committed that 100 percent of public donations will go directly to support our Program Partners.
I started Innocent Eyes Project to support heros who have made a commitment to help. People who not only wanted to help, but actually got their hands dirty on the ground. I am a storyteller and believe that I can best contribute to their efforts by doing what I do best…sharing their stories to travelers with the means to help.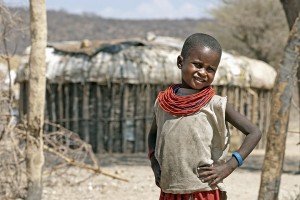 What stage of development and activity is Innocent Eyes Project in right now, and what are some of the projects slated for the next 12-18 months?
Innocent Eyes Project, Inc. was incorporated in March, 2013 and became a registered 501(c)(3) tax-exempt charitable organization on August 5, 2013. While still in our foundation stages, we have already begun to implement our mission by recently issuing our first grant to build a schoolhouse in Lugala, Uganda. Our Board of Directors has also selected and committed 2014 funding to Program Partners doing great work in Kenya, Tanzania, Guatemala and Nicaragua.
Our immediate plans are simply to spread the word about our project, develop a foundation of financial support, and do the most with the resources we have available. We are receiving public donations through our website and have started growing our social media following. We are also creating events like our first annual online Adventure Travel Charity Auction and a 2014 Kilimanjaro charity climb as fundraisers.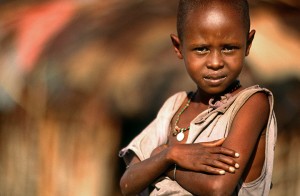 We are reaching out to potential industry partners that will work with Innocent Eyes Project as their connection to some worthy projects. Every charity has a natural constituency that truly understands the mission and purpose of the organization…ours is the adventure travel and outdoor recreation industries, as well as the community of travelers who have looked into the eyes of a young child in a poor country and wanted to help.
Clearly, our efforts can't begin to confront the enormous global child education issues requiring billions of dollars and governmental resources, but we can do some wonderful small things that will create a ripple effect and touch the lives of thousands with targeted donations to programs that have a proven record of success.
Events and Programs
Adventure Travel Charity Auction 
Our big annual fundraiser will be our online Adventure Travel Charity Auction. We will be auctioning donated outdoor gear, equipment and travel. Through our auction, we can turn old inventory, show samples, an online gift certificate, hotel and resort stays, vacation packages or trip-of-a-lifetime, into the funds that will help a child in need, build a school or launch a new education program in one of the world's poorest countries.
2014 Kilimanjaro Climb
Starting on June 7, 2014, founder David Noyes will lead a Mount Kilimanjaro summit trek in Tanzania. Planned with Colorado based adventure travel tour operator Adventures Within Reach, and co-marketed with AAA Western and Central NY, the trek will follow the 7-day Machame Route and support IEP with a $500 donation from each trekker.
Connecting Students Across Cultures
In addition to raising money to support specific child education programs, part of the Innocent Eyes Project mission is to raise awareness about the importance of child education in the developing world. Our "Connecting Students Across Cultures" program is a way for young people to learn about other countries and cultures and share in the work of our charity organization.
Innocent Eyes Project will supply teachers with an information kit and materials on the countries where our partners operate and the programs we support. Additionally, teachers can choose one of our programs as a fundraising project through our "Changing Lives Through Education" fundraising campaign.
How does Innocent Eyes Project choose which non-profits to work with and the types of projects supported?
Our first year Program Partners are five organizations I was already familiar with or had worked with in the past. The five organizations were invited to submit a Request For Funding application and our Board of Directors reviewed each request and allocated funds based on their proven track record of exceptional work and the needs they address.
As we grow, we will open our application process and target programs where small amounts of money will have the largest impact on a local community. We ensure that every dollar goes to fund a child's education or an education project and doesn't go to the promotion of religious activities.
Types of projects we are interested in funding:
Projects in developing nations.
Primary school or early education programs are given priority.
Projects that target resources towards educating girls are given priority.
Projects that provide tuition or school fees assistance to underprivileged students.
Projects that assist the children of nomadic or semi-nomadic tribes.
Projects that have a start and finish date.
Projects that deliver a tangible result (library, school, uniforms, books, supplies).
Projects that provide high impact to an entire community.
Projects that have long-lasting and sustainable results.
We are a young organization with a plan and passion. We are not looking to fund million dollar programs. In fact, we are reaching into areas of the world that million dollar programs don't go. We are reaching into the communities that embrace us as tourist visitors, if only to raise a few dollars in their market, and we are reaching into communities that often don't have many other choices than a kind sole from a distant land who made a commitment to help.
Can you relate some stories or examples of local, on-the-ground projects that are seeing some success, and highlight what attributes from those projects might be transferable in other areas? 
UNESCO reports that 100 million children of primary school age (15 percent of the worldwide total) are not in school. It is easy to forget that behind every statistics there is a young person who doesn't have a chance to fulfill their potential. But education is much more than simply having the opportunity to attend school, for many of the world's poorest children it is the only chance they have to acquire the basic skills needed to find off-farm work, earn a living, and forever break the cycle of poverty.
Kenya
On my first trip to Kenya in the year 2,000 I met guide Peter Muigai and his adopted sun Ruoro. Orphaned after his parents were killed in a tragic road accident, Ruoro slept in ditches in a plastic bag while fending for himself on the streets of Nairobi before being found and adopted by Peter and Jane Muigai. Ruoro was also one of the first children to receive help from the Makena Children's Foundation.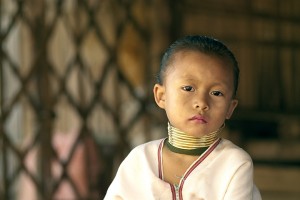 Unlike most street kids in Nairobi, Ruoro wasn't high on sniffing glue. He was smart and eager to earn a better future. Jane and Peter gave him a family, they gave him love, and with the help of the Foundation, they gave him an education. Today, that young man, who prefers to be called James, has graduated with cum laude honors from Miami University of Ohio. He is currently a PhD candidate at the University of Georgia, and like all Makena children, he is committed to helping his village back home.
Tanzania
More recently, I met a young man named Peter at an orphanage we support in Tanzania. Peter was born in the village of Mamba in 2002. He is one of the youngest boys living at the orphanage. His parents both died of AIDS and are buried in his grandparent's front yard. His grandmother wouldn't let him go to school because she needed him to help feed the animals and do chores. After repeated beatings Peter ran away from home and raised himself by searching for food during the day and sleeping alone at night in a banana field.
Like Peter, most of the children at the orphanage lost one or both parents at a very young age, often due to HIV/AIDS, and were struggling just to survive when Theresa Grant started "Make A Difference" and dedicated her life to empowering children through education. Theresa went to local villages looking for the most at-risk kids who were living with overburdened families to join her new family at the orphanage. MAD now supports 22 children with a safe, loving home and an education at one of the best private schools in the region.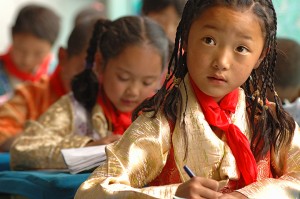 Will Peter grow up and go to college? Will he grow up and contribute to his community and country? Will he find a good job and support his family? Only time will tell. The reality is that the work of people like Theresa Grant and Sherri Mills, the founder of Makena Children's Foundation, is only providing the opportunity to learn and grow. Education is a long-term commitment with no guaranteed outcome. But for many, like Peter, education is the only chance that they might reach their full potential.
Uganda
Six years ago our program partner Partnering4Africa established a relationship with the small community of Lugala and built a health clinic, developed agricultural and water projects, as well as provided training for locals to create self-sustaining business.
Today the key community need in Lugala is to build a school for students from ages 5 to 13 and to provide them with an education. Currently, the children meet in a mud structure that is also the community church. This year a temporary mud structure will be built with Innocent Eyes Project funding as their first designated schoolhouse.
Next year this simple schoolhouse will be converted into a permanent brick structure that can adequately accommodate approximately 185 students, 90 girls and 95 boys in multiple classrooms while at the same time, allowing for growth and increased enrollment.
Innocent Eyes Project is committed to finding and funding small grassroots projects and programs that are working in local communities or with a targeted group of children that will benefit the most from our help.
The tag line for our Innocent Eyes Project is "Let's Start A Ripple" and contains a bit of a promise. It is a metaphor that suggests that one small pebble dropped into the ocean can ripple outward touching, in our case, hundreds or thousands of people in the developing world through education.
Our charity in not about rescuing a country or a continent, it is about helping a few less fortunate kids have a shot at a better life by getting an education. Education is most certainly breaking the cycle of poverty for a lot of children, families and communities in Kenya, Tanzania, and Uganda, as well as other poor countries around the world, and sometimes that education can only be acquired through the generosity of others.
What are your biggest challenges and opportunities in these early stages? What strategies will you use to overcome / capitalize on them?
Our biggest challenge, of course, is raising money to do more good in more places. Growing our brand and telling our story is no different than any other start-up corporation or organization. We need to explain our purpose and hopefully connect with an audience that shares our vision of a better world by educating one child at a time.
Like any start-up, resources and manpower are limited. For now the story of Innocent Eyes Project is my story. It is about why I have started the project, who we are looking to help, and my vision for the future of the organization. Everyone who has ever started anything from the ground floor has had one thing in common…passion. My strategy for overcoming our challenges is to hold on to my passion and connect with people who share it.
Possibly our most exciting opportunity is to fully develop our "Connecting Students Across Cultures" program. While the fundraising mission is our foundation, Innocent Eyes Project hopes to be more than simply a fundraising organization that supports worthy projects, we hope to share the stories of children and foster a better understanding between cultures all over the world. We will connect students and cultures through curriculum support, lectures, photography exhibits, books and volunteer travel opportunities. It is this part of our mission that will bring depth and meaning to our fundraising efforts.
Obviously, for us to be successful over time we will need a diversified source of revenue and partners to embrace our efforts and our brand. We are looking to partner with travel professionals to both fund projects going forward and identify worthy programs in countries where they operate. We will also reach out to corporate sponsors who sell goods and services to travelers including equipment and clothing manufacturers, travel insurance providers, airlines, cruise lines, hotels and resorts, travel agents, retailers and publishers, as well as seek small donations from millions of individual travelers.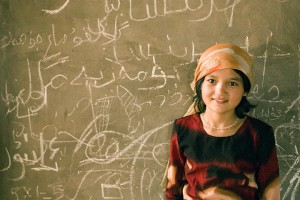 How is Innocent Eyes Project specific to opportunities for travelers and travel industry folk to get involved? What else can both groups do to support you in the coming future? 
UNESCO reports that two billion children, 85 percent of the world's total, live in the developing world. Their futures and those of their children depend on whether they go to school and how much they learn. Those of us in the adventure travel industry, and those of us who have been fortunate enough to travel, are in a unique position to truly understand what that statistic really means.
We hope to harness the power of a community of travelers who have looked into the innocent eyes of some very special children and asked "What can I do to help?" Ultimately we need help to raise money and awareness.
Right now we are growing our social media footprint to tell our story and the stories of our partners and the children they are helping. We are also developing events and auctions and will soon be launching an online store to give travelers other opportunities to contribute besides a donation. The store will sell some of our own logo-wear and merchandising, but we are also looking for affiliate partners and indigenous products to offer.
Industry Partnerships
We are looking to partner with outdoor equipment and clothing manufacturers, sporting goods and outdoor retailers, media outlets, publishers, international banks, and other interested corporations.
We are looking to partner with tour operators, travel insurance providers, airlines, cruise lines, hotels and resorts, trip leaders, travel agents, writers, photographers, bloggers and other travel professionals.
Simple things you can do are, display our Innocent Eyes Logo and link from your website or promote us in an e-newsletter, tweet, blog, or on Facebook. Travelers can like us, share us, and follow us.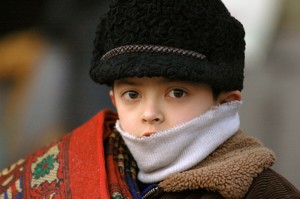 We also understand that it is often easier to donate "stuff" rather than make direct financial contributions. Another way to partner with us is by donating to our online Adventure Travel Charity Auction, which we hope will be our largest annual fundraiser. In-kind donations from corporate partners and tangible gifts from individuals will allow us to pass 100% of public cash donations straight to our program partners.
We are hoping travel property owners and tour operators will consider fulfilling a travelers dream by donating a trip-of-a-lifetime to their property, cruise ship, or destination. If that is too big, we would love to discuss something smaller like a short cruise, vacation package, weekend getaway, a hotel stay, diner, or airplane tickets… And individuals can donate new or lightly used outdoor gear, camping and climbing equipment, bags, packs, cameras and accessories, luggage, etc.
How you can help
Make an annual corporate donation
Add a small donation to a tour or trip ($1 per traveler can add up)
Work with us to develop an affinity retail program (We will sell your stuff!)
Support corporate matching with your employees
Sponsor an Innocent Eyes Project event or fundraising party
Offer an In-kind donation of gear, hotel stay, trip, flight, dinner for two, or services for us to auction
Display our Innocent Eyes Logo and link from your website
Promote us in an e-newsletter, tweet, blog, or on your Facebook page
Sponsor our "Connecting Students Across Cultures" program by helping to pay for supplies and postage (next sexy but it helps).
Hold a "dress-down" day for Innocent Eyes Project