Assistant Editor's Note: The following is the intro to an article originally published on Tnooz by Sean O'Neill and is posted here with permission.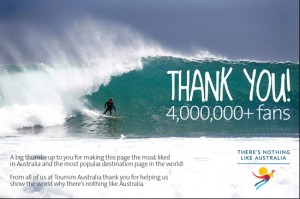 Tourism Australia has the most popular destination page in the world.
In 2012 alone, it grew its fan base from 1.2 million to 4.1 million and launched social media campaigns that elicited 1 million views a day.
Australia does well on other social media platforms, too, but Facebook still delivers "the best reach, engagement, and conversion," says the country's tourism agency.
Aussie dominance on Facebook is all the more impressive given that the travel sector as a whole is behind other sectors when it comes to social marketing.
Here's the backstory behind Tourism Australia's social media prowess. [To read the analysis and interview, please follow the link].