Imvelo Safari Lodges are thrilled to announce the launch of daily horseback riding activities for guests enjoying a safari at Bomani Tented Lodge and Camelthorn Lodge in the south of Hwange National Park, Zimbabwe's premiere national park. This fantastic new activity will kick off on March 1st, 2018 and is the first of its kind in southern Hwange!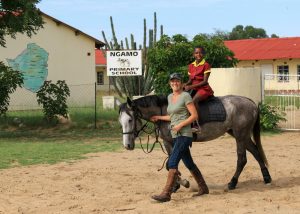 The focus at Imvelo Safari Lodges has always been on experiential safaris and Camelthorn Lodge and Bomani Tented Lodge already offer some exceptional experiential safari experiences including game viewing from our vintage rail car, the Elephant Express; elephant toe-nail level photography in our "Look-up" underground blind; and authentic and enriching cultural encounters in nearby villages. And now, in partnership with Hwange Horseback Safaris, owned and operated by Dennis and Sharon Nel, Imvelo is launching the latest addition to our experiential safari model – a variety of daily horse riding activities with options for beginners to experienced riders.
Hwange Horseback Safaris are among the pioneers of horseback safaris in Zimbabwe and have been combining their love for the African bush and horses for over a decade. Together with an impeccable safety record and a thriving stable of well-schooled horses, comprising of thoroughbreds, Percheron, quarter horses and farm breeds they ensure that each guest is well catered for on any ride!
To launch, there are five different daily activities on offer:
Beginner Bush Experience – approximately 1 hour for beginners and novice riders
Hippo Sunrise – approximately 3 hours for experienced riders
Cultural Ride – approximately 5 ½ hours for intermediate riders
Sundowner Ride – approximately 2 hours for intermediate riders
Full Day Safari Ride – approximately 8 hours for experienced riders
In addition, dedicated horse riding safari packages are available for experienced riders and enthusiasts!
In line with Imvelo's community-based tourism ethos, we are extremely proud that this new activity has been brought to life in partnership with our communities. It has provided new jobs and will support Nganyana village close to Camelthorn through guests participating in the cultural ride! During your visit the villagers will gladly show guests local crafts including basket weaving, beading and jewelry making – riders are welcome to try their hand at these crafts too!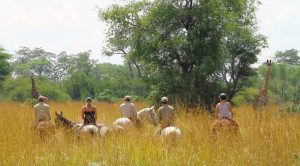 The magnificent and expansive savanna vleis that border Camelthorn along with the Ngamo Plains make for the best safari riding areas in Zimbabwe and our guests will now be able to enjoy leisurely strolls or more adventurous rides all led by our experienced horse guides! The sense of freedom, silence and tranquility, with a touch of adrenaline thrown in too, brings you closer to nature than you may have ever been before.
The open nature of the terrain makes it a wonderful environment for anybody to ride – even if you have never been on a horse before. This is the ultimate new safari activity to enjoy when visiting Hwange!
We look forward to saddling up, and to this new chapter in Imvelo's ever-evolving experiential safari portfolio and most importantly, to many guests enjoying this new and unique activity while experiencing an unforgettable safari with us!
Imvelo Safari Lodges operates six lodges and camps in the Victoria Falls area, the Zambezi National Park and adjacent to Hwange National Park in Zimbabwe – Gorges Lodge, Zambezi Sands River Camp, Bomani Tented Lodge, Camelthorn Lodge, Nehimba Lodge and Jozibanini Camp. Two of Imvelo's lodges are built on community conservancies bordering national parks on land belonging to local villages. This leads to a smaller environmental footprint in the park and provides a powerful economic benefit for local communities as well as an incentive to protect wildlife. Guests who stay at these unique, owner-run lodges enjoy incomparable wildlife and photographic safaris with highly experienced guides, guided game walks, spectacular views and surroundings, adrenaline packed activities, luxurious accommodation, and thoughtful and attentive staff.
For more information and booking details, please contact our North American representatives at the Kusini Collection at [email protected]. To make a booking, contact Imvelo Safari Lodges reservations team at [email protected].
Contributing members are responsible for the accuracy of content contributed to the Member News section of AdventureTravelNews.