The World Leader in Exploration Travel teaches agents "How to Hurtigruten," helping them become trusted advisors to their clients
The world leader in exploration travel-Hurtigruten has been traveling to the world's most remote places since 1893. Hurtigruten shares their destination and expedition knowledge with travel agents around the world, helping them to select the best cruise for their clients. The newly re-vamped How to Hurtigruten: Amundsen Explorer Club program offers an in-depth training on Hurtigruten products, services, destinations, ships, and the types of explorers that will have the best experience on a Hurtigruten cruise.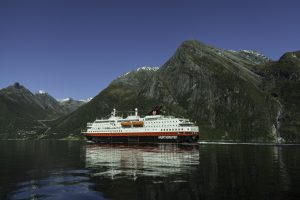 "We've reimagined the program to be as much of an adventure for the specialists as it is for their clients," says Gordon Dirker, Managing Director of Hurtigruten North America. "Travel agents are our priority and with this fresh new program, we can equip them with the most up-to-date information on our company, destinations and ships-helping them to inform their clients about Hurtigruten's exploration travel. Additional updates include our hybrid ship- the MS Roald Amundsen – and customer profile technology; an advanced tool for agents to identify potential clients who enjoy Hurtigruten.
Through interactive training modules, agents can discover each small-ship adventure product offered by Hurtigruten's fleet of distinct ships and its destinations: Norway, Antarctica, Svalbard, The East Coast of the US and Canada, Central America, South America, Northern Africa, Caribbean, Greenland, Iceland, and Europe. After completing the certification program, agents will be featured in a list of Hurtigruten Certified Specialists on the Hurtigruten web site. This page will refer clients to travel agents who are trained and specialize in expedition travel, generating leads for our expert and knowledgeable travel agent partners.
In addition to this elevated agent status, Hurtigruten offers certified agents extra perks such as a $100 gift card with the completion of their first booking, personalized certificates of achievement, a downloadable medal of honor for their email signature, complimentary subscription to trade-specific e-newsletters, a preferred agency listing on Hurtigruten.us and other gifts. This combination arms agents with the power to book more business on top of Huritgruten's already recognized commission structure, inclusive of non-cruise components.
Contributing members are responsible for the accuracy of content contributed to the Member News section of AdventureTravelNews.