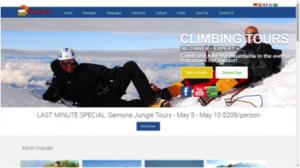 Gulliver Expedition will soon be launching their new website. The tour operator has been very busy with expansion lately and enlarges their proposition for more target groups. Therefor it was necessary that the website would have got a different look. It's going to have a more accessible-look and more attractive for all ages. Though, the main change about the looks is that it is more professional. The differences are big and immediately noticeable. The intention for making the new website is to get it more interesting for visitors. Gulliver expects for instance a better page rank this way.
The previous website did not associate anymore with the target groups Gulliver focuses on. The company offers trips in Ecuador, and since this country has a lot of adventurous diversity, it's well known for these "fit" types of tourists. In spite of this, it's not on Gulliver's mind to attract only the adventurous youngsters, but the elders as well. That's why the website needed to come along with that.
In addition does the new page fit in all screen sizes. The previous one had problems with this sometimes. It gives a more modern look and the visitors can easily find their way through the pages now.
Some subjects that the old page had are left out in the new one, because they seemed to be unessential. Things like for example the online chat will never get left out. This is still a big thing for Gulliver and is a very popular supplement in the website.
Not only the looks have changed, but some functions as well. On the front page it shows their most popular packages now, which lead you immediately to the itinerary if you click on it. As well, you will notice changes in the landing pages. The purpose of this innovation is of course to reach more conversion. It has been through a great development and the credits go to Luis Calero, who designed the page.
Check it out soon, at www.gulliver.com.ec
Contributing members are responsible for the accuracy of content contributed to the Member News section of AdventureTravelNews.