Upstart Group Travel Company Ranked 8th Fastest-Growing Private Company in Travel & Hospitality
Under30Experiences, a group travel company for 21-35-year-olds, landed at #801 overall and #8 in Travel & Hospitality on the 2018 Inc. 5000 list of fastest-growing private companies in America. Under30Experiences grew 627% over a three year period to over $2.5 million in annual revenue in 2017 to achieve this ranking.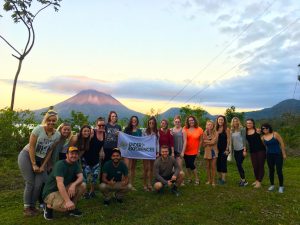 Under30Experiences launched in 2012 to help young adults see the world in a fun and affordable way. "We believed that young people need to experience the world in order to better understand themselves," said Co-founder Matt Wilson. "We started with just three trips and less than 50 travelers traveling to Iceland and Costa Rica in 2012. Since then, we've grown to over 3,000 travelers across 221 departures dates in 2018. It's quite an honor to be part of this prestigious group." Past honorees have included other sustainable outdoor companies like Patagonia and S'well.
From the start, Under30Experiences wanted to create active, meaningful itineraries for young people that did more than just visit the tourist spots. "We know everyone wants their famous Instagram photo but at the same time we wanted to make sure travelers left with a better understanding of the local culture and an appreciation of how important it is to travel off the beaten path," said Co-founder Jared O'Toole. "I think our growth and recognition on the Inc. 5000 list is incredible and speaks to how valuable these experiences are to our extremely dedicated community of travelers."
Although everyone wants to talk about millennials exploding as a generation of travelers valuing experiences over material possessions, the real key to the growth of Under30Experiences has been its community model. "It's not enough to go on a life-changing trip and then go back to your normal routine. This is why we've developed an active community of people who've traveled with Under30Experiences who get together for meet-ups across the US and Canada," says Cesar Romero, the company's first Trip Leader and now Chief of Staff. The company's network of "alumni" is now well over 3,000 travelers and have organized themselves in 30+ North American cities. Under30Experiences has a staff of nearly 30 young people across the world who want to pay forward the gift of travel to others.
Under30Experiences has become one of the clear leaders in the millennial travel space and will continue to grow as they develop more experiences that relate to young adult travelers. Just this year Under30Experiences has added trips to Ecuador and the Galapagos, as well as New Zealand.
There are over 80 million millennial travelers born between 1981 and 2001 with 2.45 Trillion in spending power, according to AdWeek. Lucky for Under30Experiences, a recent market research study by US Mintel says almost 50% of millennials say travel is an important goal, and 83% of millennials traveled for leisure over the last 12 months.
Contributing members are responsible for the accuracy of content contributed to the Member News section of AdventureTravelNews.