Expedition cruise specialist, One Ocean Expeditions (OOE) and global conservation organization Ocean Wise are proud to announce the creation and installation of a custom-built OOE scientific container lab. The One Ocean Expeditions 'One Lab' is a specialized laboratory to be installed on each of OOE's ships, with the inaugural container unveiled at the recommissioning event of RCGS Resolute in Sydney, Nova Scotia and placed onboard.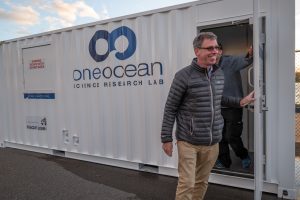 The custom-tailored lab is the latest initiative for OOE, which is committed to operating and supporting ongoing, nationally accredited science and outreach programs. OOE operates innovative voyages to the most remote and pristine areas in the world, from the High Arctic to Antarctica, and Central America to the Northern Atlantic Islands. Guests have the opportunity to travel alongside scientists and be educated on progressive research initiatives — an important part of the One Ocean Expeditions experience and the company's commitment to ocean health.
"We have been working diligently over the last decade to expand opportunities for nationally recognized research onboard," says Catherine Lawton, OOE's General Manager. "We take great pride in our team of professionals and the container science lab offers us the ideal platform to deliver both an exceptional client experience as well as opportunities for scientists to collect critical data."
"Traditionally, we gather samples in the field and take them back to the lab for analysis later," explains Dr. Peter Ross, Vice-President of Research at Ocean Wise. "Having the lab on board the ship will allow us to collect high-quality samples in remote environments, analyze samples at sea and produce data in real time."
The innovative 20-foot container is equipped with state-of-the-art equipment, providing an inclusive space for scientists to conduct their work in the isolated coastal areas explored. Analysis of data captured will provide crucial information and allow the researchers to develop measures to protect fragile ecosystems and natural habitats worldwide. While onboard, researchers also engage with expedition guests, explaining the purpose of their studies and creating ambassadors for the sensitive and remote regions which the vessels journey to. In essence, it provides guests with a deeper understanding of the importance and impact such scientific research has on our oceans.
Following the initial installation of the 'One Lab' on RCGS Resolute, two more specialized container workrooms are set to be installed onto her sister ships, Akademik Ioffe and Akademik Sergey Vavilov, for release in Spring 2019.
Contributing members are responsible for the accuracy of content contributed to the Member News section of AdventureTravelNews.