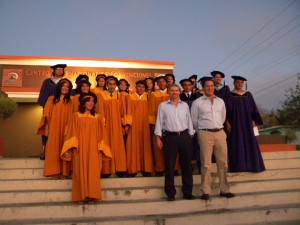 MIAMI, FL – Ecoventura, the company that cossets guests who opt to sail with its environmentally friendly fleet of small expedition vessels in the Galapagos, announces a 2012 scholarship program for local students from the islands of Isabela, San Cristobal and Santa Cruz to study conservation and ecology-related issues.
Santiago Dunn, president, said his company has pledged up to $4,800 to cover the cost of 12 scholarships for one course/module for 2012. Guests aboard Ecoventura's fleet will be invited to donate to the scholarship fund that is dedicated to training young people to become leaders in society and contribute to the sustainable development of the islands, a World Heritage Site.
Donations can be made by going directly to the EPI web site at: https://www.ecologyproject.org/donate/.
"Developing critical-thinking skills and a conservation ethic along with knowledge of the problems that threaten the sustainability of the islands are among the main objectives of the training program," Dunn said.
The program is under the auspices of Ecology Project International (EPI), a non-governmental, non-profit organization whose main goal is to inspire conservation in young people through education and field science programs. Since 2003 over 600 Galapagos teens age 16-17 have been engaged in EPI, focusing on science, conservation and intercultural exchange.
The 2012 goal is to conduct six ecology courses for 12 students each, benefiting a total of 72 students from across the province. Students spend 50 hours in the field directly involved in conservation actions concerning invasive species and the health and release of turtles into the wild. At the end of the course the best students will be invited to join a four night Galapagos cruise. A $400 donation makes the course possible for one student.
Contributing members are responsible for the accuracy of content contributed to the Member News section of AdventureTravelNews.