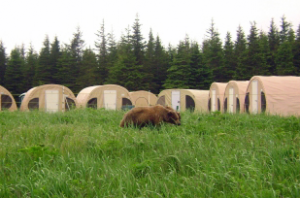 The premise of a safari is to explore exotic landscapes with veteran guides, to witness animals in native habitat and to dwell in short bursts surrounded by all that a wilderness can offer. Personalized service, security and creature comforts also factor into the experience.
A pioneer in Alaska conservation and adventure travel, Great Alaska Adventures is taking bookings now for its 2017 and 2018 seasons with programs that promise to exceed expectations of what a safari should be. The epicenter of these multi-day safaris is Great Alaska BearCamp®, a remote outpost at the entrance of Lake Clark National Park and Preserve. This is the gateway to four million roadless acres bordering Cook Inlet and accessible only by Alaska bush plane or boat. Other than glamping guests and staff, the only other residents are some 70 Brown Bear that call the shores of Chinitna Bay home. See: http://www.greatalaska.com/pages/bear_viewing_camp/118.php
Between June 1 and Sept. 1, guests on all Great Alaska Adventures' safaris fly into the encampment from the Kenai Peninsula's Soldotna airfield in groups of four and six for a one or two-night stay to experience several-times-daily guided bear viewings on foot, in a viewing vehicle or from a camouflaged platform. Often guests with guides track the bears as they saunter from the meadow to chase fish on the beaches. Bears also cavort around the lodge, which is secured by a bear-proof fence.
The Walt Disney Company chose Great Alaska BearCamp® as a base for filming Bears, their 2014 award-winning nature documentary. This is a permanent camp for 16 guests that allows bear to become habituated to the movements of humans while providing comfortable viewing for visitors who lodge, dine and socialize in Weatherport extreme weather cabin/tents on raised wooden deck platforms. Each cabin's metal door opens to a beach view that often includes the mama bears showing cubs how to dig for clams.  The tents feature wooden floors, solid doors, propane heat and light, writing desks, clothes hooks and ensuite potty facilities. A community bathhouse has composting toilets and eco showers. One large tent is dedicated to cooking and communal dining.
The bush plane lands on the smooth beach of remote Chinitna Bay. The 45-minute flight passes by Cook Inlet, with its second highest tide in the world, and the 10,000 foot volcano, Mount Iliamna. Food is flown in daily that an on-site, Culinary Institute of America-trained chef augments with locally harvested clams, berries and fish, pretty much the same fare that bears enjoy.
Special bonds are forged here. One man lived here alone with the bears for 30 years. Today camp visitors may visit the Wayne Byers Memorial Homestead, virtually intact as it was when he died a few years ago.  Caprice Stoner spends her summers here. For over a decade she has served as hostess, manager, gatekeeper and naturalist at Great Alaska BearCamp®. In this perfect-for-bear, unaltered-by-man ecosystem where Great Alaska Adventures has had a presence for some 15 years, Stoner and her team work closely with the National Park Service on sustainable bear viewing practices that leave minimal impact on the bears and environment.
Following are safari programs that include Great Alaska BearCamp®:
Great Alaska BearCamp® is also available as a stand-alone adventure for one and two-night stays. It is an ideal complement to a cruise or other Alaska-based touring. Rates at BearCamp® start at $1,595 per person, double for a one-night stay or $2,095 per person, double for a two-night stay (add $100 to these rates for RT transfers from Anchorage).
Contributing members are responsible for the accuracy of content contributed to the Member News section of AdventureTravelNews.