GLP Films will produce 7 new short-films across Peru in partnership with National Geographic, Mountain Lodges of Peru, Inkaterra, Explorandes, and other travel brands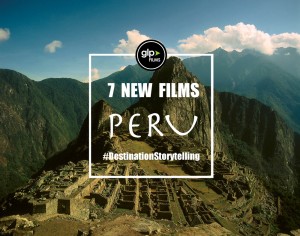 Kennebunkport, ME, USA – GLP Films (GLP), an award-winning film production and marketing company, is producing 7 new films across Peru this August. GLP Films will produce these short-films in partnership with leading travel brands, including National Geographic, Mountain Lodges of Peru, Inkaterra, Explorandes, and others. From Lima to Cusco to Machu Picchu, these films will cover diverse stories and themes, including culinary tourism and urban food, adventure travel, wildlife conservation, sustainable tourism, women empowerment, and more.
This film expedition in Peru kicks off GLP Films' new "Destination Storytelling Initiative," a program spotlighting destinations and travel brands at the forefront of sustainable tourism. Follow this inaugural project and live see updates from the Peru filming expedition at #destinationstorytelling and www.glpfilms.com/peru2015.
About the films:
Film #1: Ancient Foods, Modern Cuisine
Film Partner: Mitsuharu Tsumura
Mitsuharu Tsumura and his top-ranked restaurant, Maido, in Lima's traditional Miraflores district, are taking Japanese influence on Peruvian gastronomy to a whole new level.  Learn about the historical and cultural roots of Nikkei cuisine — a style of food that was born around 50 years ago when Japanese immigrants began combining traditional techniques and ingredients with Peruvian styles of cooking.
Key Themes: Food/Culinary, Gastronomy, Culture, Food Travel
Film #2: Lima's Best Ceviche Restaurant isn't a Restaurant
Film Partner: Lima Tasty Tours
Discover Chorrillos' authentic Peruvian coastal cuisine, including its famous ceviche, from one of its most respected residents — Tia Julia.  The wife of a fisherman, Julia is 80 years old.  With her 5 grown children, she oversees a no-fuss "cevicheria" restaurant out of her home. See why La Tia Julia is a hidden gem of Chorrillos and set to become a staple of Lima's underground food movement.
Key Themes: Food/Culinary, Gastronomy, Culture, Food Travel
Film #3: Best of Cusco: Authentic Food Experiences
Film Partner: Explorandes, Ayni Peru
Take a bite out of Cusco in this food-centric film about the authentic dining experiences in the former imperial city of the Incas and "navel of the world." From partaking in the traditional Andean pachamanca meal, to dining in a women-owned homestyle restaurant, the low-key, yet Peruvian culinary delights of Cusco are endless.
Key Themes: Food/Culinary, Gastronomy, Culture, Food Travel
Film #4: Empowering Women Through Adventure Travel
Film Partner: Explorandes, Ayni Peru, Apus Peru
Men have traditionally dominated Peru's adventure travel industry, but a few enterprising trailblazers are pioneering a new way forward. Meet the women who are shaking up the adventure tourism scene in Peru and redefining traditional roles of women.
Key Themes: Women Empowerment, Culture, Adventure
Film #5: Reinventing the Route to Machu Picchu
Film Partner: Mountain Lodges of Peru
The Inca Trail to Machu Picchu gets all the acclaim, but an alternative route to the famed ruins is reinventing the trekking game. Connecting the region's dynamic culture and communities, the challenging 7-day Salkantay Trek follows an ancient and remote 500-year-old footpath where snowcapped mountains of the Cordillera Vilcabamba collide with lush tropical cloud forests of the Amazon basin, culminating at the world's most famous hilltop citadel — Machu Picchu.
Key Themes: Adventure, Culture, Sustainable Tourism, Hiking and Trekking
Film #6: Celebrating 40 Years of Inkaterra
Film Partner: Inkaterra
Celebrate 40 years of Inkaterra through the stories and characters of its most iconic properties. See how Inkaterra's strong conservation and cultural ethos have made this organization a pioneer of ecotourism in Peru. From its founder and staff, to members of the community, to its successful research and conservation projects, see how Inkaterra plans to continue its ecotourism legacy as a guardian of the sacred region of Machu Picchu.
Key Themes: Sustainability, Conservation, Culture, Luxury Travel
Film #7: Meet The Real Paddington Bear
Film Partner: Inkaterra
Often linked to Paddington Bear, the lovable character from the popular children's book series who stows away to England from Peru, the spectacled bear is critically endangered with an estimated 6,000 bears left in the wild. This film takes a behind-the-scenes look at the Spectacled Bears Rescue Center in Aguas Calientes to meet twin rescues, Kina and Josi, and learn how the Center is rehabilitating and reintroducing these bears back into the wild.
Key Themes: Wildlife Conservation, Sustainable Tourism, Wildlife Tourism
Peru 2015 Key Partners
Mountain Lodges of Peru, Inkaterra, National Geographic, Explorandes, Avianca
Contributing members are responsible for the accuracy of content contributed to the Member News section of AdventureTravelNews.