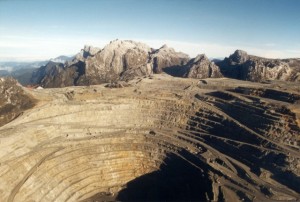 Global Rescue has performed a security evacuation for a group of climbers in the highlands of Papua, Indonesia, after the party found itself trapped in a violent uprising.
The group was camping at the base of Carstensz Pyramid, the tallest point in Oceania and one of the Seven Summits, when a large rock slide injured some of the group's porters, one of them critically. The nearest medical aid was at the adjacent Grasberg mine, which is located about 50 miles outside of Timika, Indonesia. The severely injured porter was treated at the mine's clinic.
The Grasberg mine sits on the largest known reserve of gold ore in an otherwise impoverished region, and has been a political flashpoint for many years. The frequent uprisings in the region have been described by the New York Times as "a seemingly unending conflict in a part of the world famous for both its awesome remoteness and the incredible wealth on and beneath the ground."
When the climbers arrived, the mine was in the midst of a labor strike that had escalated to a violent riot. The road from the mine to Timika was blocked by protesters and large piles of rocks. There were several reports of travelers being attacked along the road, leaving no viable overland exit for the party.
One of the climbers, who had purchased a security membership with Global Rescue, called the company's Boston Operations Center for assistance. The company's security specialists ascertained that the member was in danger and arranged a helicopter to transport him and the group to the airport in Timika, where they boarded their previously scheduled flights home.
About Global Rescue
Global Rescue provides best-in-class 24/7 medical, security, evacuation, consultation, and crisis response services to individuals, corporations, travelers and expeditions worldwide. The company's emergency response teams are comprised of critical care paramedics, physicians and security personnel, many of whom are veterans of elite special operations units of the U.S. Military. Through an exclusive relationship with the physicians of Johns Hopkins, Global Rescue members also benefit from the advisory services of some of the world's finest physicians.
Examples of Global Rescue's work includes extracting and evacuating hundreds of people from the Middle East during the uprisings of 2011, responding to victims of the earthquake and tsunami in Japan and deploying medical and security personnel to earthquake-ravaged Haiti to secure, treat and evacuate more than a hundred travelers, humanitarian workers and orphans. Other recent missions include assistance and evacuations from Chile, the Republic of Georgia, Romania, Saudi Arabia, Afghanistan, Mexico, Alaska, Argentina, Ethiopia, Nepal, Thailand, and domestically in the US.  For more information, visit www.globalrescue.com.
For press inquiries, please contact Global Rescue's press office at (617) 459-4200 or email [email protected].