Volcanoes Safaris Partnership Trust (VSPT) is thrilled to announce that the Adventure Travel Conservation Fund (ATCF) has voted to support the Gahinga Batwa Village!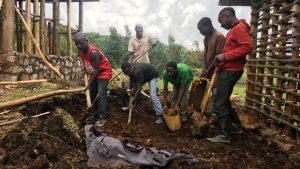 The construction of the Gahinga Batwa Village started in the fall of 2017. The funding from the ATCF will contribute towards the permanent settlement for the Gahinga community of Batwa pygmies, a group of about 100 adults and children.
The Batwa were displaced from their ancestral homeland in Mgahinga twenty five years ago and have been living as marginalised landless squatters since then.
"We are extremely grateful for the financial assistance awarded and the awareness that this will bring to the plight of the Batwa as well as the wider conservation-community issues around the gorilla parks." Kevin James, VSPT Treasurer.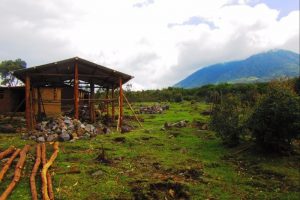 The Gahinga Batwa Village will have homes for the Batwa Community, areas for cultivation, recreation and a community centre. The Batwa will move to the village in Spring 2018.
VSPT has purchased land for the building of the village and made available materials for the Batwa to build their own homes. Since 2013, VSPT has set up a series of projects to support the livelihood of the Batwa community through tourism related enterprises and to help preserve their culture and heritage.
"The work is easy when it is to build our own homes," said Kabwana, a young member of the community.
"We are excited to have our own land with homes and a place to farm. We wish for sustainability," stated Jane Nyirangano, Batwa Chairperson.
To donate to the Gahinga Batwa Village through VSPT please click here.
To book a visit to the Gahinga Batwa Village near Mount Gahinga Lodge please contact us.
Contributing members are responsible for the accuracy of content contributed to the Member News section of AdventureTravelNews.