Largest agent program to date; $75K in incentives including $10K cash prize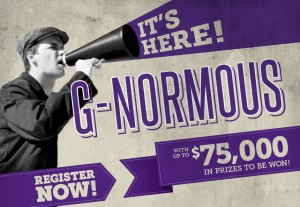 Leading small-group adventure travel tour operator G Adventures announces the launch of G-Normous. Spanning four months with over $75K in incentives, including free trips & cash prizes, G-Normous is the largest agent program the company has ever implemented.
"We saw tremendous growth in 2013 specifically in agent sales and as we kick off 2014, we want to continue to show the love to our travel agent partners and let them know how much we value their business," says Steve Lima, marketing manager, US.
"We're launching a massive incentive program that is supported every month by great consumer offers, agent webinars, and customizable marketing collateral to help agents sell. We look forward to continue working with our partners this year."
Up until April 30, 2014, agents will have a chance to take advantage of extra commission, win monthly prizes including free trips and bonus cash, and a grand G-Normous Jackpot prize of $10K. To qualify, agents must register.  Once agents register online their bookings begin to count towards any of the prizes.  For every client booked, regardless of travel date, agents will receive a chance to win.
Monthly Prizes
Agents have a chance to win $5K in January. The winner will be randomly selected. The incentive will be paired with a consumer offer of 15% off all Marine style adventures.
For the month of February, agents will receive an extra 2% commission with promo code GNORMOUS.  Agents must be registered and must use the promo code with every single booking to earn the extra 2%.  The incentive will be coupled with a consumer offer of 10% off all Classic style trips.
In March, agents can win a trip for two. Tours include Thailand Hike, Bike & Kayak, Costa Rica Active Adventure and Cycling in Tuscany. The incentive will be paired with a consumer offer of 15% off all Active style trips.
For the month of April, agents can win a trip with air included. Tours include Marvelous Morocco, Discover Galapagos – Central Islands, Southern Discovery and Turkey Explorer. The incentive will be coupled with aconsumer offer of 15% off all Comfort style trips.
Grand Prizes
The agent with the highest number of bookings made between January 1 and April 30, 2014 will receive a $10K jackpot. In addition, five $1,000 prizes will also be randomly drawn.  To qualify agents must have at least 10 passengers booked.
Contributing members are responsible for the accuracy of content contributed to the Member News section of AdventureTravelNews.