New York, NY — Speaking on stage in front of a crowd of travel agents, operators, suppliers and industry leaders at the New York Times Travel Show, G Adventures founder/owner Bruce Poon Tip announced the seven winners of his company's first search for U.S. Ambassadors of Change. The announcement came during the Focus on Adventure session at the show today, sponsored by the Adventure Travel Trade Association.
"Travel and tourism can be transformative forces for good, but we need champions to help us educate travelers about the power of their purchases. G Adventures' agent partners are key change makers in this vision. We're very happy to give our new ambassadors this platform and opportunity."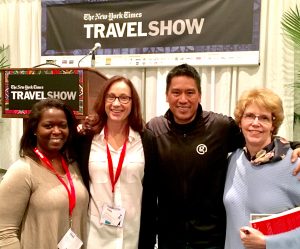 G Adventures' 2017 Ambassadors of Change are:
Leslie Wahlgren, of Kahala Travel in California and the Signature Travel Network
Sally Black, of VacationKids in Pennsylvania, a member of Travel Leaders
Theresa Jackson, from Enlightened Journeys Travel in New Jersey, a Virtuoso Advisor
Katie Tappa, of Fox World Travel in Wisconsin, and the Signature Travel Network
Valerie Mahoney, with Avoya Travel in New Jersey, and American Express
Myrna Arroyo, of Largay Travel in Louisiana, a Virtuoso Advisor
Doug Orens, with Plaza Travel in California, a member of Signature Travel Network
Announcement of the seven winners followed a two-month long, nationwide search for outstanding ambassadors from the American travel agent community to help represent the company in 2017 and spread the word about travel as a force for global good among clients and peers.
Between November 15th, 2016 and January 1st, 2017, G Adventures received more than 350 applications for the role, with agents representing 42 states, 14 major consortia, and 329 different agencies. Candidates answered three short written questions online at gadventures.com/ambassador, before G Adventures staff voted on finalists through a process of blind submissions. Eleven finalists then recorded answers to several more questions during HireVue videos, making their best pitch.
"The response surpassed even our most optimistic hopes for the first year of this program," said Steve Lima, Marketing Manager for G Adventures in the U.S. and one of five judges who selected the winners. "The collective passion, enthusiasm, experience and industry knowledge these candidates represent, showed us just how timely our decision was to engage their closer partnership."
A panel of judges from across the industry reviewed and debated the finalists' applications, before selecting six people to represent G Adventures in 2017. G Adventures staff in the United States then made a seventh, bonus pick. The judges were:
Arnie Weissmann, Travel Weekly Editor in Chief
Casey Hanisko, Adventure Travel Trade Association, Vice President for Marketing & Communications
Jamie Sweeting, G Adventures, Vice President for Sustainability + President, Planeterra Foundation
Louise Twining-Ward, Sustainable Travel International President
Steve Lima, G Adventures, U.S. Marketing Manager
Ben Perlo, Managing Director for G Adventures in the U.S. thanked the judges for their enthusiasm, time and expertise. "The team at G Adventures here has wonderful relationships with travel agents across the States, but the added wisdom and input of our partner judges helped us ensure balanced and impartial selections that will gain the respect of a broader community."
The seven ambassadors chosen will be asked to help G Adventures promote the life-changing benefits of travel to their customers and peer communities, while educating consumers about G Adventures' unique products and learning tools. They will also be asked to help amplify G Adventures' support for the 2017 UN International Year of Sustainable Tourism for Development.
Each Ambassador of Change will be awarded a series of benefits to incentivize and support their efforts, including but not limited to: marketing funds to host educational customer events; a custom G Adventures communications tool kit; a G Adventures' gift bag filled with branded wearables and travel accessories; plus travel on one of seven all-expense-paid trips that include visits to a G Adventures for Good community development program.
Travel and tourism comprise one of the world's leading business sectors, driving 10 per cent of all economic activity on the planet, or US $7.6 trillion each year. The sector supports one in 11 jobs worldwide and is collectively the largest employer of women, providing 66 million jobs. Travel and tourism is also the principal export earner for 83 per cent of developing economies.
Contributing members are responsible for the accuracy of content contributed to the Member News section of AdventureTravelNews.