Tour operator's U.S. hub becomes its second global headquarters, while company earns #1 ranking in the 2019 USA Today 10Best Readers' Choice survey
Tour operator G Adventures has announced the establishment of a second global headquarters for its international business in the United States, with the creation of an HQ2 in Boston, Massachusetts. The second head office will complement the strategic work of the company's founding home base in Toronto, Ontario, and lead in the design, innovation and contracting of tour products and technology solutions for the entire business, tapping into the strong talent pool and partnership opportunities in the Boston area.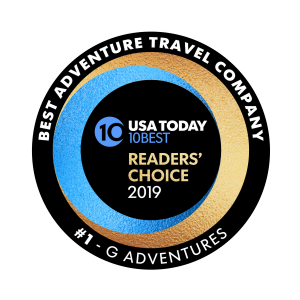 Along with the shift, the company will be nearly doubling the size of its team and its office space in Boston, renovating and occupying a new floor in its current location downtown, near the historic city's thriving Financial District. Additional work spaces will be added to host new talent in product and technology, along with colorful new meeting spaces themed around adventurers and world changers.
"The USA represents our largest opportunity for growth in the future. We've really only scratched the surface of what we can do there," said G Adventures founder and owner Bruce Poon Tip. "Our Boston office has built an amazing sales and marketing group. They embody our connected, diverse culture and our obsession with customer service, while proving to be among the most competitive in the industry. Between the existing team and the new organizational structure, I feel confident that we are well positioned to make responsible, small-group, adventure travel the go-to for travelers around the world."
The U.S. team celebrated the announcement with another win — a first place finish in the Best Adventure Travel Company category of USA Today's 2019 10Best Readers' Choice Awards. The online competition welcomed public voting from April 21 to May 20, and ranked the top 10 adventure tour operators in its annual online survey, which posted results last Friday.
"It's fantastic recognition for all the hard work we've done here these past few years," said G Adventures Managing Director for the U.S.A. and Latin America, Ben Perlo. "Being voted as number one by our customers, travel agent partners and online community is a milestone we're extremely proud of, and the ideal lead into our expansion within G's global business. Together with our 12 Global Purpose Specialists who lead our outside sales around the country and our operations team out west, the U.S. team is thrilled to take up this role. It puts us in the best possible spot to serve our partners' and customers' needs over the coming years."
With nearly 30 years of operations on the books, and more than 2,200 employees and 750+ tours in more than 100 countries around the world, G Adventures' leadership team took note of Boston's evolution as a hub for many other travel businesses, as well as its rise as a center of innovation, investment and technology.
Vice President of Software Engineering Les Liddell, who has helped guide G Adventures' technology practice from Toronto since 2007 and will soon be relocating to the U.S., said: "In Boston, we gain access to the kind of top professionals we need to create industry-leading platforms and services that will optimize support for our customers. It will also help us massively scale how we can serve new partners. There's a deep talent pool here, with all the world-class universities and technology brands nearby, and we're ready to tap into it."
Yves Marceau, Vice President of Product for G Adventures, will be leading a new leadership team from G Adventures' HQ2 that oversees the design of tours and purchasing and contracting for the company's thousands of suppliers. He and a new group of directors will work with product specialists in regions around the world and build a decentralized unit that creates unique experiences for travelers, shared value for local suppliers, and efficiencies for the group of companies that covers G Adventures, TruTravels and G Touring, the latter of which includes JustYou and Travelsphere.
Marceau said, "The rising popularity of 'experiences' in travel that we've seen from both online travel agencies and tech brands in recent years has shown us that we are firmly on the right path. Experiential travel is not only in our wheelhouse, it's our very foundation. Research consistently shows that travelers want more out of their vacations: deeper interactions in destinations, activities that benefit local people while creating share-worthy experiences that stretch us out of our comfort zones, and the ability to connect with each other in meaningful ways. Travel experiences are not only the new status symbols, they're the commodity by which more and more people are measuring their happiness. Our new U.S. product team will help us stay ahead of the trends."
Poon Tip noted that the company's U.S. growth has soared at rates beyond even his initial expectations. G Adventures now employs 70 travel professionals who work in sales, marketing, tour operations and social impact roles across the United States. It also rolled out a new fleet of 14 custom-built, branded adventure vehicles last year, to more comfortably carry travelers on guided tours across North America.
"Our team's competitive drive and passion for changing people's lives continue to inspire me," added Poon Tip. "We more than quadrupled our U.S. sales over the last four years and we expect to double that amazing growth over the next five, all while staying true to our passion and purpose."
Added Perlo: "There's no question: the U.S. market and American traveler are core to our vision of making small-group adventure travel the preferred way for people to share themselves and their families with the world. We can use our vacations for something fun and transformational, and we're ready to amp up that message for travelers everywhere."
Contributing members are responsible for the accuracy of content contributed to the Member News section of AdventureTravelNews.