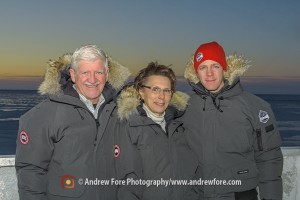 Winnipeg – Frontiers North Adventures founders, Lynda and Merv Gunter, will be awarded the Canadian Tourism Lifetime Achievement Award at the Canadian Tourism Awards Gala being held November 26 at the Westin Ottawa Hotel. The couple founded Frontiers North Adventures in 1987, growing the company into an internationally-recognized eco-tourism operation focused on Canada's North.
"It is a huge honor to be recognized by our industry peers with this award. We are humbled to say the least," said Lynda Gunter. "It makes us look back to where we started from – wanting to share the amazing things Churchill has to offer with those first hardy souls who wished to travel north, to where we are today, taking thousands of international visitors from all over the globe to experience one of the most unique and beautiful places in Canada's north. Seeing the expressions of awe and sometimes tears of joy on our guests' faces when they experience what the north has to offer is what gave us energy all those years ago and what keeps us energized and successful today".
Operating Frontiers North Adventures along with their son John, Merv and Lynda started Frontiers North Adventures after living in Churchill for four years in the early 1980s. They have grown the company from a staff of one to employ 15 year-round staff and up to an additional 50 seasonal staff. Frontiers North specialize(s) in wildlife viewing and other adventure products in Canada's North.  Earlier this year, the couple passed leadership of Frontiers North Adventures on to John, but continue to be actively involved in the business.
"I can't think of anyone who deserves this award more," said John Gunter, President and CEO, Frontiers North Adventures. "I've watched Merv and Lynda build Frontiers North Adventures from the ground up, and I am honored to carry on their legacy by taking over leadership this year. I hope to model the work ethic, passion and creativity I saw in them as I lead the company into even further growth."
The Canadian Tourism Lifetime Achievement Award recognizes individual(s) who have made a significant contribution of energy, service and talent towards the growth of the Canadian tourism industry. Recipients demonstrate leadership, vision and innovation built on a solid foundation of strong values and sound business strategies. The Tourism Industry Association of Canada's Awards Gala is held each year as part of the Association's Tourism Congress.
Frontiers North Adventures has been specializing in adventure tours in Canada's north since 1987, ensuring travelers have the opportunity to view and photograph the wildlife of the North as well as learn about the people of the North, their culture, history and customs. Dedicated to making socially, environmentally, and ethically responsible decisions that contribute to the well being of their employees, guests, local community and the environment, Frontiers North believes that hosting guests in Canada's North should benefit the communities and ecosystems in which they operate.
Contributing members are responsible for the accuracy of content contributed to the Member News section of AdventureTravelNews.