A new research report from the Adventure Travel Trade Association (ATTA) and Tomorrow's Air sought to understand how people think about travel and climate change and how those thoughts impact travel decisions and behaviors. To learn more about this topic, a team of researchers from California State University, Monterey Bay; Texas A&M; and San Francisco State University surveyed travelers about their knowledge and thoughts about climate and travel, exploring barriers and opportunities to supporting climate when traveling.
Almost all (96%) of the survey respondents traveled for leisure at least once per year, and on average, they traveled 5 times per year prior to COVID-19. Respondents were primarily from North America (68%), with 25% from Europe and 7% from other regions of the world. 
Results of the study highlight a few key opportunities for the travel industry:
Travelers are vectors of inspiration and information for those around them.

Learning that 67 percent of these travelers are sharing their climate awareness with others indicates that travelers themselves are vectors of inspiration and information for those around them. Travel providers can support this activity by sharing digestible climate information and empowering travelers with access to affordable, meaningful ways to help.

Frequent travelers are taking notice of travel business sustainability practices.

For travel service providers, it is relevant to note that frequent travelers are taking notice of their sustainability practices. They're particularly noticing whether their travel providers are using fuel-efficient transportation, efficient electricity and heating alternatives, and sustainably sourcing food. 
There is a clear need for straightforward and practical education to travelers on the topic of carbon removal and its role in restoring our climate.

Even in a survey population more likely to understand carbon removal and its variations, it is revealing to find misconceptions such as confusing carbon removal with carbon capture utilization and storage (a technique used in enhanced oil recovery) and the characterization of sustainable lifestyle modifications as 'carbon removal.' This highlights an important opportunity to offer climate action education, including plain facts about carbon removal and its role in restoring our climate.   
There is an activist spirit among more than half of frequent travelers.

Sixty-seven percent of respondents said they 'sometimes' or 'often' share their climate awareness with others, and 40% of travelers in this population say they hope to be carbon neutral in their travels within 5 years. These are the hallmarks of an engaged, activist community that could be helpful advocates for the climate movement. 
Engage travelers further by responding to their feedback that affordability and education are the major barriers to taking action for climate when they travel.

Travel has the potential to activate many millions of travelers; offering clear education alongside low-cost ways to contribute could unlock valuable benefits. 
Download the Report Here for More Details
More than half of respondents (60%) said they are experiencing physical effects of climate change and shared their perspectives on changing weather patterns, biodiversity impacts, and ecological changes. Many related this to some form of direct impact on their life, livelihood, or leisure experiences (55%). A few said they were not impacted or the impact is minimal or positive (8%).
Frequent travelers say they are highly concerned about climate change: 68% say it is a threat to the world; 58% say it should be given top priority. However, despite reporting being concerned about climate change, even frequent travelers said they only sometimes considered climate change and emissions in their past travel and rarely change their plans based on emissions knowledge: 67% of travelers in this study say they sometimes, almost always or always consider carbon emissions associated with travel, yet only 44% say they sometimes, almost always, or always make changes to their travel plans based on knowledge of the emissions.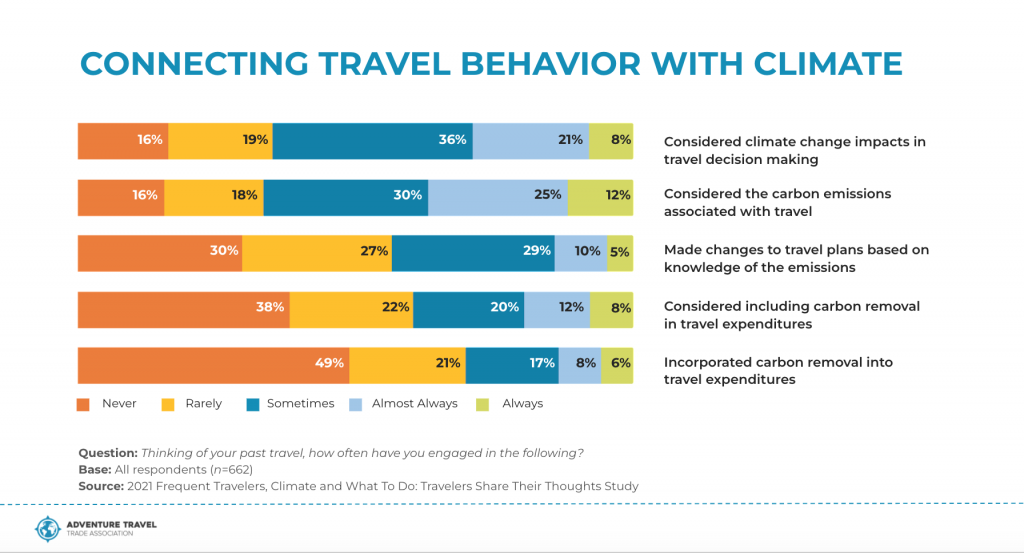 When asked what support they need to overcome barriers to climate action during travel, 57% said affordability, and 43% said education.
When asked what actions they currently take to benefit climate, the most popular response was to adapt meals to emphasize lower-emission foods (52%), followed by restructuring travel itineraries to rely less on fossil fuels (38%). Renewable energy and sustainable construction matters too, and more than half notice whether carbon emissions are measured. Twenty-six percent of respondents said they offset carbon emissions, while 20% said they were engaged in some form of carbon removal. 
The hope is that with stronger knowledge of where travelers are today when it comes to climate, ATTA can better support the sustainable adventure travel industry in providing useful tools and support for effective communication with guests on this topic. Tour guide, accommodation provider, and tour operator communities are on the front lines when it comes to experiencing the direct effects of our warming climate, and also perfectly poised to engage travelers in experiences that open their minds, touch their hearts and inspire them to action.
Download the Report Here for More Details
Research prepared by Paige P. Viren, Ph.D., Daniel G. Pilgreen, M.S., Aritree Samanta, Ph.D., Mandalyn K. Kime, B.S.