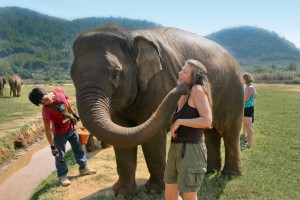 Sausalito, CA – Wildlife viewing specialist Wild Planet Adventures encourages travelers engaged in nature to support verified, non-profit wildlife conservation projects in need of tax deductible donations to further their missions.
"We support grass-roots wildlife preservation and habitat conservation projects that don't often receive money from big charities. Donors to these can travel with us to see how their contributions are being used," said Wild Plant Adventures founder and owner Josh Cohen.
Travelers donating $250 or more to any of the following five wildlife conservation projects and who reserve space on Wild Planet Adventures scheduled trips aligned with one of the five conservation projects will receive a $100 trip discount or ask Wild Planet to donate that $100 to a conservation project in their name. Following are the programs:
Costa Rica's Sloth Sanctuary, an official project of Sea Save Foundation, rehabilitates injured sloths back into the rainforest.  To donate cash for much needed medical supplies and equipment purchases please go to: http://www.slothsanctuary.com/how-to-help/make-a-donation/; Wild Planet's 9- and 14-Day Costa Rica Ultimate Wildlife Eco Tours give travelers a chance to witness donations at work.
Peru's Macaw Project at Tambopata Biosphere Reserve daily receives as many as 1,000 macaws and parrots totaling over 20 species coming to the world's largest macaw clay-lick for a beak-full of life-sustaining clay. The Macaw Project is run by Dr. Donald Brightsmith at the Schubot Center for Vet Sciences at Texas A & M.  Donations assist long-term monitoring of the clay lick, and help build, maintain and monitor tree-top macaw boxes which provide important nesting sites for the birds. To make a donation please go to: http://vetmed.tamu.edu/giving/opportunities/parrot-conservation-research; to see the work being done while also experiencing an intimate wildlife experience book a space on the 9- or 13-Day Peru Ultimate Wildlife Adventure.
India's Agra Bear Sanctuary is home to over 270 endangered (from cruelty and abuse) sloth bears that were dragged around the streets of India, their delicate muzzles pierced and their teeth broken with metal rods to "entertain" uneducated tourists.  The bear sanctuary focuses on rescue, long-term care and rehabilitation; it also helps Kalandar tribesmen to develop alternative livelihoods, sponsor education for Kalandar children, and empowers women in the community.  Tax deductable donations to the Utah, US-based Wildlife SOS organization supports over 500 sloth bears in four sanctuaries across India.  To donate go to http://www.wildlifesos.org/donate; A visit to the Sloth Bear Rescue Center is included in Wild Planet's 13- and 19-Day India Ultimate Wildlife Eco Tours.
Thailand's Elephant Nature Park feeds, cares and provides medical supplies for rescued Asian elephants today numbering as few as one thousand in the wild. Their habitat is rapidly disappearing, wild herds are fragmented, and conflict between humans and elephants is increasing. Captive elephants aren't doing much better; they lack government protection, are abused in illegal logging operations and forced breeding programs, and exploited in ultra-commercial tourism. To donate please see http://www.serengetiusa.com/donate.html (specify Elephant Nature Park); a $250 or more donation will earn a $100 discount on any of Wild Planet Adventures' Thailand programs.
Brazil's Cristalino Ecological Foundation protects one of the largest and most pristine private reserves in the Amazon rainforest while also protecting and studying its vulnerable primate populations.  Dr. Liza Veiga partners with the University of Pará to assure the habitat protection of primates within the Cristalino Private Natural Heritage Reserve.  To donate please see http://www.fundacaocristalino.org.br/us_index.php; to see firsthand the work that's being done sign up for Wild Planet's 11- or 15-Day Pantanal to Amazon: Jaguar's Trail adventure tour.
Contributing members are responsible for the accuracy of content contributed to the Member News section of AdventureTravelNews.