Story and photos by Timothy Scott
What will your traveling customers look like in a year or two? Judging by the trends many companies operating in Latin America are starting to see, more clients will be Latin, they'll be younger, more interested in 'uniqueness' and will be traveling more frequently as families—including multi-generational families.
Much of the press about travel in Latin America the first half of this year will be on World Cup host Brazil. In a way this is a sideshow, however, as there are larger, more long-lasting factors impacting tourism in the Americas. After another year of travel in the region and talking with tour operators at LE Miami, ATMEX, TravelMart Latin America, and ILTM Americas, clear patterns are emerging that don't require a crystal ball. Here are five trends that will have an impact on nearly any travel-related business operating in Mexico, Central America and South America this year and beyond, but especially on those courting higher-income travelers.
Latin Americans are traveling more internationally, and spending more than before.
Well-traveled clients increasingly want to do something they haven't seen splashed all over their social media network a hundred times already. They want special access, guides who are noted experts and arranged encounters that tie in to the local culture.
For many years now Brazilians have been a big factor in the Americas and Europe, citizens from the world's fifth-largest economy making up for lost time. In some Miami hotels they are the number one market and in many Central and South America locations tour companies have scrambled to adjust to a major Portuguese-speaking influx. This trend is spreading wider though, with Mexicans, Peruvians, Colombians, Chileans and others from countries with a rising economy traveling more abroad. Mexico is now the largest luxury goods market in the Americas after the USA and Canada. "Latin Americans—particularly Brazilians—represent the fastest growing segment of our business worldwide, " says Kathy Stewart of Butterfield & Robinson tour company.
"Latin Americans are certainly traveling more. Not only to other continents, but also within Latin America," says Richard Sharman of Chilean tour company Explora. "They have a huge appreciation for the contrasts of the continent, and are always interested in discovering the true local identity of each country."
They're also spending more to travel within their own country in style. Catherwood Travels in the Yucatan state of Mexico was set up as a high-end tour company to serve foreigners, but Angelica Espinosa says, "We have a lot of Mexicans traveling to the Yucatan, with a great budget. When they travel, they travel well. They demand the best, especially when it comes to dining."
Nadia Le Bon of Mountain Lodges of Peru notes that the uptick in clients from Brazil, Chile and Argentina has helped smooth out the highs and lows for companies that previously depended on Northern Hemisphere clients for most of their bookings. "They tend to travel in their summer (our winter), which really helps fill our lodges during a slower time of year."
Multi-generational and family travel is continuing to rise.
At the ILTM Americas conference this past August, much of the session talk was about trying to serve the needs of multi-generational groups. Paul James of the Starwood Hotel Group said they have learned their lesson and will be adding "twice as many suites" to future St. Regis properties and even the most expensive St. Regis and Luxury Collection resorts are adding kid clubs and teen clubs.
Multi-generational trips just keep getting more and more popular for every company queried for this article, including Butterfield & Robinson. "At the moment in South America,  Galapagos and Peru are particularly popular," says Kathy Stewart. "The 'bucket list' destinations seem particularly popular for grandparents taking their family." Washington Pino of Columbus Travel Group in Ecuador says the connecting rooms on their Cormorant ship in the Galapagos have been a big hit for the increasing number of families booking tours.
In their La Selva jungle lodge, "We have seen repeat clients who have visited the lodge years ago and then revisit with their children and even extended members of their family and friends.  We have also seen a significant increase of parents interested in bringing their children to the lodge to see wildlife that cannot be seen anywhere else in the entire world. It makes a great opportunity to teach the younger generations about the importance of conservation."
Angelica Espinosa says, "As people have fewer opportunities in their daily hectic lives to spend quality time together, the role of the grandparents becomes a key in family reunions and celebrations. Families want to travel and learn together, create memories together and concentrate on what really matters."
They also want space to spread out and often can't find that in the typical hotel set-up. Zachary Rabinor of Journey Mexico says of his clients, "There is special interest in villas and private residences as family groups crave privacy and intimacy."
"In a world that seems to live in the fast lane, traveling is quickly becoming the quintessential family reunion," says Richard Sharman. "Getting away from it all and connecting with the truly important is definitely a growing trend."
A shift from flashy, ostentatious luxury to more experiential adventures.
As one luxury travel magazine editor said at ILTM Americas, "Bath butlers and pillow menus are out. Unique, personalized experiences are in." Well-traveled clients increasingly want to do something they haven't seen splashed all over their social media network a hundred times already. They want special access, guides who are noted experts and arranged encounters that tie in to the local culture.
Stewart says Butterfield & Robinson clients are increasingly asking for more authentic experiences with a sense of place, such as picnics with the locals and casual "locavore" meals.
"Luxury is being redefined," says Sharman. "There's a general 'back to basics' trend among travelers, in which people are appreciating things which once seemed abundant and which now seem scarce, such as time, silence and disconnection."
Espinosa adds, "They want to make a difference and to be transformed. The is key is to develop unique hands-on experiences that at the same time are highly culturally sensitive, where you give and you receive."
Washington Pino says even the highest-spending guests are now far more interested in responsible tourism. "One of our catamarans received certification from Smart Voyager, an organization in Latin America that focuses on companies who are sustainable users. Additionally, each of our crew and staff from both yachts participate in community events like beach clean-ups or any other programs that they can lend a hand in.  Many of our clients have more respect for us after learning about these extra things we do and it attracts more people who are environmentally conscious."
"Mountain Lodges of Peru has been very successful in creating an adventure travel experience that changes people's lives," says Le Bon.  "The Salkantay Journey to Machu Picchu challenges the guests on a physical level during the day, while providing the comforts of a first class accommodation at night. By engaging in learning about local issues and needs, our guests also become supporters of community and conservation projects.  It is a win-win situation, and a rewarding experience for the traveler."
Young, "creative class" globetrotters are redefining hotels and tours
Younger travelers with plenty of money to spend have very different expectations than the traditional retired luxury traveler of decades past. They care about connectivity, interesting design, local food and unique experiences. They're not so interested in deference, fawning service and clear class divides. Sharman says they "expect to be greeted as individuals, they expect to look into someone's eyes, they expect to share a joke with staff. It isn't just a holiday, it's a life experience."
Their numbers are growing rapidly, from Silicon Valley tech titans and "digital nomads" from the north to the new wave of young entrepreneurs riding the wave of growth from Mexico City to Panama City to Sao Paulo. Mountain Lodges of Peru saw this coming and opened El Mercado Tunqui in Cusco recently, a new 31-room boutique hotel. "We definitely see a demand by younger, affluent travelers for a more personal and intimate experience," says Le Bon. "They also enjoy more high-tech services, while seeking a more authentic experience with local flair. The large, old-fashioned luxury and especially chain hotels are definitely out of style for the new generations."
This is proving to be a big problem for some organizations, especially lodging companies that have built their business around keeping guests in the property, not outside it. Relais & Chateaux, which has a string of excellent member hotels in Latin America, has struggled for years just to lower their average age from 50 to 47.
Journey Mexico is seeing an increasing number of young entrepreneurs of ample means who are looking for a more cutting-edge experience in their hotels and their travels, who see it as a means of expression of who they are.  "We've had a lot of requests within this demographic to meet locals and get 'inside' a destination.  They seek to be a traveler, an invited guest, rather than a tourist."
"We are beginning to see a higher level of younger people traveling and choosing our high-end products," says Pino.  "This younger crowd is usually made up of young professionals or executives who are looking for soft adventure and close encounters with unique flora and wildlife.  The technology available today makes it easier to find deals and offers more specific to their interests with just the click of a mouse or the swipe of a finger."
The new high-end travelers want exclusivity, uniqueness and customization
While many older travelers in the past were content to be cocooned in their bubble resort, with an occasional jaunt out "to see the sights," today's high-end travelers are looking for more immersion and experiences that are unique to them. "Access to special events, people and locations is definitely considered a luxury," says Stewart, noting that tour companies with a history of seeking out local connections and unique itineraries now have a big advantage over those who copied the standard checklist playbook.
Says Espinosa, "Experiential travel doesn't necessarily need to be expensive… the luxury industry, however, will make experiential travel exclusive, private, with those touches that make the difference."
Rabinor of Journey Mexico says that people with plenty of money have done it all, that they are now looking to do something different, something "that is not openly available to most visitors.  This usually has to do more with special experiences than the nuts and bolts of luxury travel."
"Roughing it in style is the new way to travel," says Le Bon, "especially when combined with name dropping of iconic places like Machu Picchu."
Many of these trends are good news for tour operators in Latin America, who only have to make slight tweaks to their model rather than wholesale changes. The elements are already in place in this whole region to offer unique, life-changing experiences that go beyond a routine vacation tour. With labor costs being a fraction of those in many more established destinations, it's easier to offer high-touch service and customized private trips. The future is looking bright for those companies that can best meet the new demands.
About Timothy Scott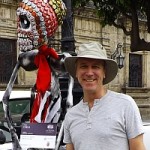 Timothy Scott is the editor of LuxuryLatinAmerica.com, which features first-person hotel reviews and luxury adventure tour stories from travel writers who are experts in the region. He also publishes twice-weekly updates on the Luxury Latin America blog.