New Adventure Tours for Foodies Include 27 Michelin-Starred Establishments in Europe and USA – Along with an Active Culinary Experience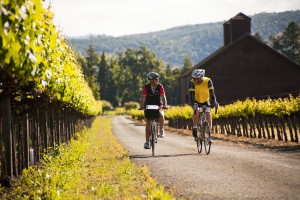 If you thought active travel meant eating trail mix and energy bars, Backroads − the leading active travel company − is setting the record straight with the announcement that its guests can now enjoy access to 27 Michelin-starred restaurants in Europe and the United States, with secured reservations at some of the world's top restaurants. The adventure trips for foodies include fine dining experiences at establishments such as California's Solbar, Italy's Ristorante Villa Crespi, Spain's Hotel Marqués de Riscal and France's Auberge de l'Ill.
Backroads Premiere Inn Trips are meticulously planned and managed, offering deluxe accommodations and—thanks to Backroads securing the extremely hard-to-book reservations—opportunities, on select tours, to dine at some of the world's best restaurants.
Each year, the French-published Le Guide Michelin honors a few select fine dining establishments with one to three stars for quality, value, excellence and creativity; being awarded a Michelin star can dramatically affect a restaurant's popularity, making dinner reservations difficult, or in some cases nearly impossible to secure in a timely manner. Fortunately for guests on Backroads trips, the active travel company has a close relationship with Michelin restaurants on its trips, and has reserved the coveted spots months in advance.
In addition to dining at some of the world's best restaurants, all Backroads trips are created to take in the best that every region has to offer in local culinary specialties, including dining at unique local hotspots, enjoying gourmet picnics and tasting regional delicacies.
Active Culinary Tours for Foodies
Backroads offers Active Culinary Adventure tours in Italy, France and the California Wine Country. These unique foodie trips cater to food-focused guests with exclusive experiences such as cooking classes, exploring wine and food pairings, restaurant tours and introductions to celebrated local winemakers, chefs and artisans. Backroads' guests visit with farmers, vintners, bakers and olive oil producers who share their expertise and local culinary knowledge. On Active Culinary tours, Backroads' guests learn to cook regional dishes; explore local markets with knowledgeable chefs; and walk, hike and bike on the land where the food is sourced. It's the ultimate farm-to-table experience.
"As a leader in active travel, we take pride in ensuring our guests experience the best that every country, region, city and town has to offer," said Backroads Founder and President, Tom Hale.  "Giving our guests the chance to dine at some of the world's top restaurants, with reservations that only we can secure, is another distinguishing characteristic that elevates a Backroads adventure into something truly special."
Michelin-Starred Restaurants on Backroads Tours Include: 
FRANCE
Auberge de I'lll
Château de Sully
Château des Vigiers (Les Fresques)
Hostellerie La Briqueterie
La Bonne Etape
Le Coquillage
Le Phébus (Xavier Mathieu)
Le Relais Bernard Loiseau
Le Vieux Logis
Restaurant Le Saint-Estève
GERMANY
Hotel Bayrisches Haus (Restaurant Friedrich Wilhem)
HOLLAND
De Vrienden van Jacob
ITALY
Capri Palace (Il Riccio)
Castel Fragsburg
Castello del Nero (La Torre)
Guido da Costigliole
Il Pellicano
La Siriola
La Subida
Relais Il Falconiere
Ristorante San Marco
Ristorante Villa Crespi
St. Hubertus
Villa Cimbrone (Il Flauto di Pan)
SPAIN
Hotel Marqués de Riscal
UNITED STATES
Solbar
Madrona Manor
Contributing members are responsible for the accuracy of content contributed to the Member News section of AdventureTravelNews.