The Global Sustainable Tourism Council (GSTC) is pleased to announce that the Responsible Tourism Institute (ITR) Biosphere Responsible Tourism destination certification program has achieved 'GSTC Approved' status. The Biosphere Responsible Tourism certification program is now the first to achieve GSTC Approval for both Hotel & Tour Operator and Destination certification standards. This outstanding accomplishment exemplifies ITR's commitment to promote sustainable tourism products and services.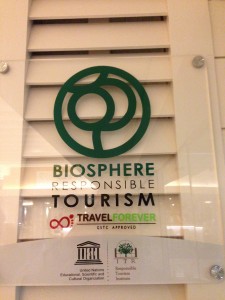 ITR created and developed the Biosphere Responsible Tourism Program, which is acknowledged by the BIOSPHERE certification to regulate the sustainable behavior within the international tourism industry. BIOSPHERE is an international and voluntary certification based on the principles of sustainable development. This label is granted to establishments in different countries around the world. Currently, BIOSPHERE is present in destinations, hotels, restaurants, zoos, active recreation centers, museum and golf courses in several European, Latin American and African countries, among which include the following: Spain, UK, Germany, Luxembourg, Italy, Chile, Mexico and Sao Tome and Principe.
"This dual approval has a triple meaning for ITR; Firstly, this approval represents recognition by the highest and most prestigious international institution of our work in favor or responsible tourism, factor and harmonic engine of social and economic development; secondly, it serves us as a powerful stimulus to continue and improve our mission; and finally, let it be said, feeling of pride that always feel the first to reach the goal. For those who have trusted our certification also represents a guarantee of your success in choosing our certifications, as well as, a sense of satisfaction because they and their clients, apart from achieving their goals, are aware that actively support a process of sustainable development" said Juan Antonio Menéndez-Pidal, ITR's Vice President of International Relationships.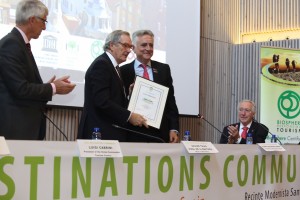 In order to become a GSTC-Approved standard, a certification program is required to have previously completed the GSTC-Recognized process. "GSTC Recognized" means that the standards include the 41 GSTC Criteria, which were created as global baseline standards. "GSTC Approved" means that the independent, objective and neutral GSTC Accreditation Panel has determined that the processes and practices utilized by the owner of the standards are applied professionally and objectively. Attaining both levels speaks to compliance with the GSTC Criteria and to excellence in utilizing their own standards. The GSTC programs recognize and reward genuine practitioners of sustainable tourism, which in turn builds confidence and credibility with consumers.
"We congratulate and commend the Biosphere Responsible Tourism program for taking this step in adding even greater credibility to their fine work by proclaiming to the world that they adhere to globally recognized standards," said GSTC CEO Randy Durband.
Currently, ITR's Biosphere Responsible Tourism certification program is the only standard that has achieved GSTC-Approved status. The completion of these step-wise programs rewards standard owners for their commitment to sustainability while offering the market benefit of proof that these national standards adhere to international norms.
The GSTC will continue to work with organizations around the world to provide GSTC Recognition, Approval & Accreditation of standards for sustainability in travel and tourism. GSTC Approved standard owners are encouraged to complete the Accreditation process in order to achieve improvements in their sustainability frameworks, further distinction amongst other certification programs, and receive increased market benefits.
Contributing members are responsible for the accuracy of content contributed to the Member News section of AdventureTravelNews.