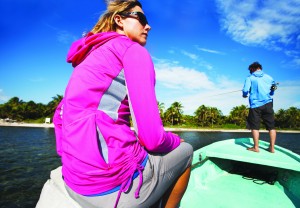 Seattle, WA  – The ExOfficio® Sol Cool Ultimate Hoody has been honored as a recipient of a 2014 Backpacker magazine Editors' Choice Award, the most prestigious award in the outdoor industry, given annually to products in recognition of their outstanding innovation in design, materials, and performance.
Backpacker Editor-In-Chief Dennis Lewon and his staff presented ExOfficio with the award during the annual Outdoor Retailer Winter Market in Salt Lake City, Utah, on January 22, 2014.
The Backpacker Editors' Choice Awards, presented every winter since 1993, honor the products that Backpacker editors have chosen as the best of the year based on months of trail testing by teams of highly experienced hikers and climbers. With no set categories for the awards and no set number of recipients, the products and the testing process drive the award categories.
The ExOfficio Sol Cool Ultimate Hoody, available for men and women, was one of only 12 innovative products that have been honored with a 2014 Backpacker Editors' Choice Award.  The Sol Cool Ultimate Hoody fabric features Icefil® technology which blends Xylitol into the fibers.  Xylitol, a compound also found in the birch tree and mint gum, cools skin up to five degrees upon contact with moisture, which is efficiently wicked away to the fabric surface. Sol Cool additionally has the highest sun protection rating for a garment, UPF 50+.
"Backpacker gear reviews set the benchmark by which all others are measured," Lewon said. "That's because no other magazine or website conducts field-testing as rigorously or impartially as the crew led by Gear Editor Kristin Hostetter. Our core testers each have years of backcountry experience and expertise in multiple pursuits from climbing to paddling to skiing. Under Kristin's leadership, they put new products through punishing real-world abuse in the toughest terrain and worst weather. She also oversees a transparent process that has earned an unrivaled level of trust from readers, retailers, and manufacturers. The result? Best-in-class reviews that lead consumers to best-in-class gear."
"I can speak for all of us at ExOfficio by saying how thrilled we are to learn that the Sol Cool Ultimate Hoody was chosen for this award," said Bill Inman, Director of Design for ExOfficio.   "To be recognized as a superior product after such thorough testing is truly an honor."
The Backpacker Editors' Choice Awards are the gold standard against which all outdoor products are measured, and are a seal of approval that can help put an outdoor company or product on the proverbial map. Each year at the Outdoor Retailer show, retail buyers use the awards announcements as a must-buy shopping list, knowing that their customers will be asking for these products in the spring.
Since their inception, the Backpacker Editors' Choice Awards have come to be regarded as the most sought-after award for outdoor equipment and apparel found in the industry.  The impeccable outdoor credentials and rigorous field-testing standards of the Backpacker staff guarantee that these awards are an undisputed mark of quality for the companies and products selected.
All winners must excel under extensive field-testing conducted by Backpacker's team of editors, who take hundreds of new products every year into the backcountry to put them to the test.  This rigorous process ensures that the performance of the winners is truly worthy of distinction and meets the guiding principle behind the program: gear that is of real value to the readers of Backpacker magazine, who are very active, long-term outdoor enthusiasts.
Contributing members are responsible for the accuracy of content contributed to the Member News section of AdventureTravelNews.