Southeast Asia's largest Destination Management Company is spearheading responsible travel and leading the way in international sustainability across the industry.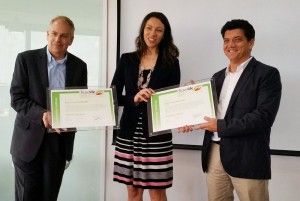 Bangkok – At a ceremony in PATA Headquarters, EXO Travel received the much coveted 'Travelife Certification' award from the United Nations Environment Programme (UNEP) (Janet Salem, Programme Officer on Sustainable Consumption and Production), recognising their long-term efforts as pioneers of sustainability and corporate, social and environmental responsibility. The accolade was for EXO Travel's work within their Cambodia and Vietnam operations.
Janet put forward that "EXO Travel have set an example of how business success, client satisfaction and sustainability can go hand in hand. They have paved the way for other companies in Asia to follow and to make a real difference for the industry at large."
Travelife, which was originally established with the support of European Travel associations, is the leading international sustainability certification across the industry. Achieving certification requires compliance with a total of 229 criteria, among which 150 are compulsory measures, covering the company's office management, product range, supply chain and customer information. The Travelife standard integrates the ISO 26000 Corporate Social Responsibility themes, including environmental efforts, biodiversity, human rights and labour relations; and is formally recognised to be in full compliance with the UN supported Global Sustainable Tourism Council criteria. Worldwide, 35 national travel associations are promoting the scheme to their members in Asia, Africa, Europe and Latin America.
EXO Travel CEO Olivier Colomès was delighted with the news "At EXO Travel, we are really proud to have reached this important milestone; as a major company it meant getting over 300 members of our team throughout Cambodia and Vietnam committed to the comprehensive and demanding requirements of Travelife".
"This latest achievement is the continuation of a great adventure that started 3 years ago under the guidance of the EXO Foundation, and which has become a continuous commitment integrated into our daily routines. Everyone involved in the process can look upon the certification with pride, and we are excited to take what we have learned here across all of our destinations. Most of all, we are enthusiastic about spearheading change across the sector at large, and taking a pioneering role in the movement towards truly responsible travel."
Naut Kusters, Manager of Travelife for Tour Operators commented, "I am delighted that both EXO Travel and Khiri Travel are the first Southeast Asian companies to fully comply to the Travelife Certified criteria. The awarded companies are the frontrunners. It is our aim to change the industry at large, and encourage more and more Asian tour operators to take an active approach towards sustainability."
Contributing members are responsible for the accuracy of content contributed to the Member News section of AdventureTravelNews.