Evaneos, the leading multi-day tour marketplace for tailormade travel, announces a landmark investment of over £60 million ($80 million). The funding is financed by Evaneos' existing stakeholders as well as new investors Partech, Level Equity, and Quadrille Capital. Having doubled in size every two years since its launch, the company's objective is now to become a global brand by accelerating its international development.
Investment to become a global travel brand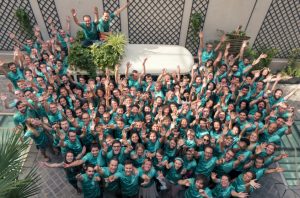 Evaneos, the online marketplace that connects travellers with carefully-selected local travel agencies across the world to create tailor-made trips, has just secured a new investment round of 80 million dollars, led by Partech and US firm Level Equity. Partech, Level Equity, and Quadrille Capital have now joined existing investors XAnge, Serena Capital, and Bpifrance to finance the operation. Arma Partners acted as exclusive financial advisor to Evaneos on this transaction Eric La Bonnardière, Co-Founder and President of Evaneos, says:
"Our business model is attracting an increasing number of European travellers each year, which makes us confident in our ability to become a global player in the tourism industry. This investment will now give us the necessary resources to move forward with even greater ambitions, and I look forward to welcoming our new international investors who will be at our side every step of the way."
With this fourth investment round, a client base of over 300,000 travellers, and a business model that continues to thrive in highly competitive markets (Germany, France, Italy, Spain, the UK), Evaneos has secured its position as the leader of its sector in Europe, catering to nine European countries today.
With the $60B multi-day tour sector still dominated by intermediaries, Evaneos' next challenge will be to accelerate growth and develop the direct-to-local concept outside of Europe. North America has been identified as a first major area of investment, with the company's ultimate aim to become the go-to global brand for customized, authentic travel experiences.
To achieve these objectives, Evaneos plans to create 70 new job positions by the end of 2019. The company will be looking for candidates with an expertise in product, data (developers and data scientists), e-merchandising, and content. They will also focus on recruiting British and American profiles, especially in the fields of marketing and business development. By the end of 2019, Evaneos aims to have a total workforce of over 250 employees. The company's expansion doesn't stop there: by the end of 2019, 500 new local partner agents will also join the Evaneos community, meaning travellers will have direct access to 1,800 local travel agents in 160 destinations.
At the heart of the Evaneos business model: technological innovation combined with local expertise.
Since the launch of Evaneos in 2009, founders Eric La Bonnardière and Yvan Wibaux have led with the approach that technology, combined with the human touch, can be a means of reinventing the tourism industry. With over 9 years of experience and a team of 180 employees including 40 developers, Evaneos has created a unique trip-booking platform for travellers that places people at the core. Part of their new investment will go towards accelerating and optimizing the web and mobile platform, as well as the local agencies' SaaS. The company's goal is to continue to be an industry game changer by continuously reinventing the planning and booking of multi-day tours.
Evaneos' local partner agencies are at the heart of their business model. By putting travelers in contact with professional agencies based in the destination, travellers are able to benefit not only from trip-customization, but more importantly, local expertise. As the pioneer of this concept, Evaneos has made a strong contribution to revolutionising the travel industry since its launch in 2009, becoming the number one partner to help local agencies increase their B2C sales. According to Bruno Crémel, General Partner at Partech:
"The relevance of Evaneos' innovative value proposition stems from their strong in-depth understanding of travellers' and local agents' expectations. The strength of Eric and Yvan's vision, combined with an exceptional operational and technological execution ability, explains Evaneos' growing success among travelers worldwide; besides, Evaneos' key contribution to local agents' development and the constant expansion of this network of international partners are additional elements which convinced us at Partech to support Evaneos in this new growth phase."
Contributing members are responsible for the accuracy of content contributed to the Member News section of AdventureTravelNews.