ITB World Travel Trends Report forecasts rise in travel to and from Europe. As expected, bookings by holidaymakers from southern Europe are down. However, the number of visitors to these countries has increased.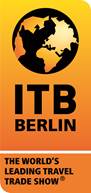 Berlin – Despite various regions continuing to experience economic difficulties Europe's tourism industry remains buoyant. This is one of the findings of the annual ITB World Travel Trends Report, conducted by IPK International and commissioned by the world's leading travel trade show, whose figures confirmed rising travel numbers to and from Europe. The forecast for 2014 is equally very positive.
From January to August figures for outbound tourism grew by 2.5 per cent, compared to 2012. Overnights increased by two per cent. By contrast, the amount spent by tourists at holiday destinations rose by only one per cent. Averaging 7.9, the number of overnights per trip fell by two per cent. Putting this decline into perspective, however, was the fact that in recent years Europeans have tended to take more short breaks, combined with fewer long holidays.
The figures for source markets varied widely. The Russian market boasted a healthy increase of 12 per cent. Despite economic difficulties, the market in France grew by five per cent, followed by Sweden, the UK, Belgium and Switzerland. The German market expanded by two per cent. As expected, Spain and Italy were low down in the rankings, as was Ireland. Trips undertaken by Italians fell by up to five per cent.
South America and the Pacific benefited most from an overall unabated lust for travel and reported a nine and six per cent increase in trips respectively. The North American market remained relatively stable, whereas the Caribbean market shrank by eight per cent. A look at the respective travel industry segments reveals a three per cent increase in holiday trips, while business travel decreased slightly. In the leisure travel market smaller segments, in particular winter breaks and trips to rural destinations, were increasingly popular, while major segments such as city breaks and beach holidays maintained their share of the market. As regards booking channels, as anticipated online reservations increased, growing by 12 per cent, whereas traditional agency bookings made up only three per cent.
Positive forecasts for next year
The forecasts for travel in 2014 are very positive. 38 per cent of those polled, two per cent more than in 2012, said the economic situation affected their holiday plans. Despite this 28 per cent, the same figure as last year, said they intended to travel abroad more. Around 42 per cent said they aimed to continue travelling as they did this year. Only nine per cent (2012: 11 per cent) said they would be travelling less abroad. Overall, the forecasts predict three to four per cent growth in 2014. In this respect Russian travellers are expected to top the rankings. They are forecast to increase by ten per cent.
The Swiss, Britons, and Swedes also expressed their desire to travel. At three per cent, growth in the German market will remain stable, while expansion in the French, Dutch and Spanish markets will be moderate. The latter will finally return to growth. The Italian market's decline is forecast to continue.
Inbound tourism figures extremely positive
As regards arrivals in Europe the figures for the "Old World" varied according to region. Overall, they were positive. Thus, the ITB World Travel Trends Report recorded around 396 million international arrivals during the first eight months of 2013, around 5.4 per cent more than in 2012. The European Travel Commission (ETC) reported similar findings. Among the European winners in this market were Iceland, Slovakia, Serbia and Latvia, which experienced double-digit growth.
Russia, Asia and the USA were among those countries which contributed particularly to the high number of travellers from abroad. Most countries reported a rise in visitors from source markets such as Russia, Germany, the UK, Norway, France and Switzerland, while the market for travellers from the Netherlands, Spain and Italy painted a different picture. The ETC forecasts an overall increase of around three per cent for travel to Europe in 2014. However, it qualified this forecast as imprecise, due to the economic situation remaining uncertain.
A look at the performance of individual countries reveals a number of winners in southern Europe. In particular Malta, Portugal and Croatia experienced growth rates of between six and eight per cent. In 2013 visitors to Italy rose by 2.5 per cent. At around three per cent, the forecast for 2014 is equally positive. Most central European countries reported solid growth and expect two to four per cent growth next year.
The figures for northern Europe remained stable too. There was a decline in arrivals from Germany, but this was offset by visitor numbers from Russia and Asia. International arrivals in the UK and Ireland rose by five and six per cent respectively, with growth figures of one and four per cent expected in 2014.
All the findings are based on information from papers held at the World Travel Monitor® Forum in Pisa, which is sponsored by ITB Berlin. Every year the consultancy IPK International invites more than 50 tourism experts and scientists from around the world to present the latest statistics and trends in international tourism.
Other results of the January to August 2013 trend surveys conducted by IPK as well as the assessments of more than 50 tourism experts from over 20 countries and the core data of the World Travel Monitor® will be published exclusively by ITB Berlin. Detailed information will be available in the ITB World Travel Trends Report in early December at www.itb-berlin.com. At the ITB Berlin Convention Rolf Freitag, president of IPK International, will present the findings of the World Travel Monitor® for the entire year, as well as the latest forecasts for 2014. The World Travel Monitor® is based on the findings of representative interviews carried out with more than 500,000 people in over 60 global travel markets. It has been published for more than 20 years and is recognised as the most widescale continuous survey examining global travel trends.