Heliconia is proud to announce the premiere showing of their Epic Trails series on Outside TV, Wednesday, May 9th at 10pm ET/ 7pm PT. The half-hour premiere episode, Exploring Canada's First National Park, follows host Eric Hanson on his adventures heli-hiking, caving and backpacking through the backcountry around Banff and Lake Louise.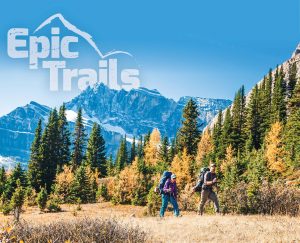 "Kicking off the first season of Epic Trails in Banff National Park was an easy choice to make," explains Hanson. "Banff isn't just Canada's first National Park, it's Canada's most popular National Park, and for good reason. The landscape is absolutely stunning, and there are endless opportunities to get into the backcountry and explore."
"The idea behind Epic Trails was to capture and share the magic of the world's top hiking destinations," says Heliconia President and Epic Trails Producer, Ken Whiting. "After watching the show, I think most people will agree that as the host of the series, Eric has one of the best jobs in the world."
Epic Trails airs on Outside TV and follows Eric Hanson on his adventure travels, as he discovers the world's top hiking and backpacking destinations. The first season of the show takes Eric deep into the backcountry of Banff National Park, Australia's Northern Territory, New Zealand's Abel Tasman National Park, Peru's Sacred Valley, and Fiji's mountainous interior.
The show is currently seeking hiking, climbing and mountain biking destinations to film in 2019. If you are interested in hosting the Epic Trails crew for an episode, please contact Brendan Mark at 613.582.7154 or [email protected].
Contributing members are responsible for the accuracy of content contributed to the Member News section of AdventureTravelNews.