By Vanessa Marino, Amazon Emotions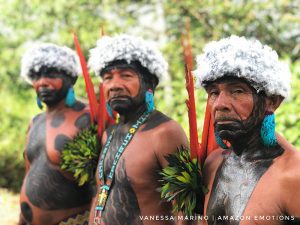 La noticia del primer caso de coronavirus en una reserva indígena de Brasil llamó la atención del mundo para la situación de los pueblos autóctonos que corren el riesgo mayor con la pandemia, recordando que en estas comunidades raramente hay infraestructura de atendimiento médico cercano. En muy poco tiempo, se confirmó lo que muchos temían, una indígena de la etnia Kokama fue el primer caso diagnosticado con el nuevo coronavirus en el estado de Amazonas. Por causa de la vulnerabilidad de estos pueblos, aún reviven el miedo de enfermedades traídas de afuera, marcando profundamente la memoria de generaciones que vieron sus ancestrales dizimados. Según el historiador americano Henry Dobyns, las enfermedades importadas por los europeos en la América (tifo, varíola, sarampo, peste, etc.) mataron 95% de la población del hemisfério durante los primeros 130 anos de la colonización.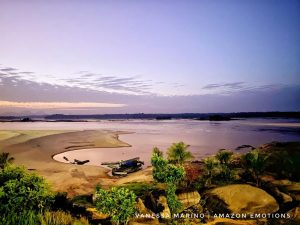 De esta manera, inmediata y voluntariamente, muchas comunidades cerraron el acceso terrestre y fluvial, impidiendo la entrada o salida de indígenas y visitantes. Es importante resaltar que la amenaza representada por el COVID-19 en territorios indigenas es un problema mas amplio, que no implica apenas el peligro de la circulación de miembros de la comunidad a los centros urbanos mas cercanos, también existen otros factores de transmisión como las deforestaciones, minería, conflictos fronterizos, invasiones ilegales, entre otros.
Entre los lugares que se vieron mas afectados por el COVID-19, por cerrar sus actividades económicas y especialmente las turísticas, se destaca el municipio de São Gabriel da Cachoeira, donde se encuentra localizado el Parque Nacional Pico da Neblina. Allí se encuentra la montaña más alta de Brasil, el Yaripo (2.995m), y es un lugar que siempre despertó enorme interés en el mundo del ecoturismo y aventura también por estar en una de las regiones mas preservadas y bellas de la Amazonia, dentro del territorio indígena Yanomami, también considerado un lugar sagrado para este pueblo.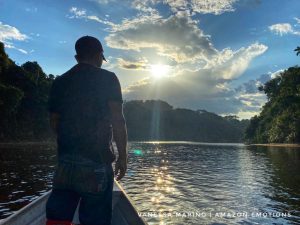 Para los Yanomami, el tema ecoturismo ganó enorme importancia por esta actividad convertirse en una alternativa de ingreso ideal en comunidades que trabajan con el "garimpo" minería de oro, entre otras actividades ilegales, mejorando su calidad de vida, necesaria sobre el aspecto de la protección territorial y el fortalecimiento cultural.
En estos tiempos de reflexión, en plena selva amazónica, no pienso en un "nuevo normal" esperando por una nueva etapa de conformidad, y si en una reconstrucción de valores para un compartir de beneficios en escala local, nacional y mundial. El mundo del turismo está caminado a un llamado de humanización, es momento de que lo veamos, donde toda la cadena productiva necesitará trabajar unida para generar beneficios mutuos y así crecer juntos. Estamos hablando de proyectos que unen turismo con conservación de la biodiversidad y el desarrollo socio-económico a través de la ciencia y educación… siendo un tema que siempre prometió ser uno de los caminos más sensatos a seguir en nuestra región… hoy esta en nuestras manos que sea un camino real, esta sería la forma responsable de hacer turismo en nuestra región, en Brasil y porque no en el mundo.
Voices From The Field – ATTA is providing this space for the benefit of our members for building awareness within our community. The views and opinions expressed in this column are not necessarily ATTA's, nor do we endorse them by their publication.