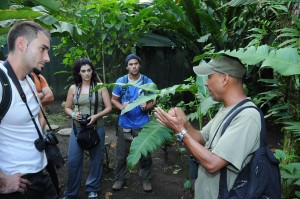 Couple of years ago, Costa Rica and many other destinations began the process to welcome international students in their countries, they are not only looking for a leisure vacation, this specific market is looking for an authentic exchange and unique expeditions around the world.
Nowadays many travel agencies, wholesalers and tour operator are trying to catch this business, for this reason, how can you show students, parents, and teachers that your educational travel program is the ideal proposal for them?
It´s a very complex question, because every trip has different purposes; for example it´s not the same to prepare a program for a group who wants to do cultural exchange than another program for kids who wants to discover a local attraction; or design an itinerary for sustainable practices than prepare a program for people that want to practice a foreign language.
In my personal opinion, and as we develop in Green World Adventures (Costa Rica), there are important aspects at the moment to design programs for this specific market (you can also use it for different types of tourism), for us these are the most important characteristics before designing an itinerary for educational trips:
The first one and maybe the most important, you should ask what is the principal purpose of your trip?  Sometimes, it could be more than just one specific goal, and depends of your product specialist to design that unique program that fulfill all the needs of your client.
You have to involve local culture when you are preparing an international student program: As Rebeca Tang said (a member of Adventure Travel Trade Association) "Travel to another country is the best way to learn new things, such like cultural, language etc."
Personalize service and flexibility are two success keys of this market: Teachers and students now are looking for those trips that are unique, different and personalized for them, so as possible as you can, you have to design all the itinerary according to their demands, taking care about the little details and be careful with your flexibility in case of modifications or last minute changes. If you work with local partners, stay in a constant contact with them to guarantee that they are implementing all the services that your client wants.
Innovative products: As all the industry of tourism is innovating every day, you and your team has to be looking for innovative products (alternative destinations, new tours, new activities, etc.). If you can bring to the educational field, unique itineraries exclusive of your company, with new ideas and new destinations, you will get the interest!
Quality of services: Most of the student trips has a very specific budget that you have to adapt, but it doesn't mean that you have to bring a lower quality of services; as all your clients, they deserves the best services that you can give them.
Security: High priority. If you are including adventure activities, be sure that you or your local partner, inspect constantly the activity to guarantee the safety of this. International travel insurance must be mandatory in every case. Always ask if some participant has a medical condition such as allergies. This important information you should ask prior departure. Students must provide an emergency contact in case of any situation.
Fast respond: Your time to prepare a specific program and present it to your client could give you the advantage or disadvantage with another competitor. Take care to present a detailed itinerary highlighting all the needs of your client.
The operation of each tour and the post tour phase is different for every company and it requires another specific analysis.
I hope this information helps you to improve in the educational trips field and bring to this market the possibility to make of their trips more than a simple leisure vacation.
Contributing members are responsible for the accuracy of content contributed to the Member News section of AdventureTravelNews.