Award-winning eco-hotel, Mashpi Lodge in Ecuador's cloud forest is delighted to announce the extension of the Mashpi Reserve from 1,200HA to 2,500HA. This initial phase of expansion is spearheaded by Fundación Futuro, Mashpi's sustainability arm whose long term plan is to incorporate an area of 5,000HA within which the 24-room lodge resides. In time, the reserve will incorporate two key conservation corridors, one to the north towards Cotacachi-Cayapas National Park and one to the south towards Mindo-Nambillo Protected Forest, allowing species to move freely between the two.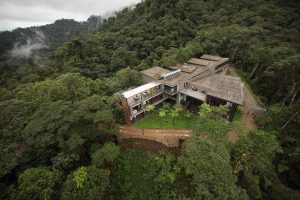 The news comes as Metropolitan Touring becomes a completely carbon neutral operation. Fees generated to offset guests' carbon footprint will now help support initiatives in the reserve and locals in the area including pioneering research projects and re-forestation to help mitigate the effects of climate change.
To further aid these projects, the Lodge – which has been at the forefront of forest protection since opening in 2012 – is also in the process of expanding its Research Department, where resident biologists and visiting naturalists work to study the cycles, habits, interactions and habitats of the flora and fauna within. The intended expansion will now allow for large student groups and biology classes in the middle of the cloud forest.
To complement these projects, the Mashpi Science Laboratory, located a short walk from the main lodge, is home to several experiments in partnership with some of the world's leading universities. An ongoing study with the University of California-Berkeley into the soundscapes of frogs will help explore how behavior of sound can determine the presence of certain species, whilst a three year project with BirdLife International to explore the pollinization of plants by hummingbirds has proven to be highly significant for their conservation. Other projects include in-depth research into the effects of global human activities and the nitrogen human footprint within remote places across the Andes. A study with the University of Cambridge is currently exploring the life cycle of different butterfly species and tentative research into the distribution and quantity of primates and bats in the wider area is also in the process of being developed. Lastly, an additional ten camera traps have been purchased to help naturalists further survey wildlife presence and activity.
Mashpi Lodge is a 24-room glass-fronted eco lodge located three hours from Quito. Since its launch, guests have had the rare chance to fully immerse themselves in an intimate jungle experience. The lodge's expansive, two-story glass-fronted dining room offers a vibrant culinary experience where Mashpi's chefs draw from the diversity of the surrounds whilst the lodge's wellness centre makes use of local ingredients to provide bespoke treatments.
Contributing members are responsible for the accuracy of content contributed to the Member News section of AdventureTravelNews.