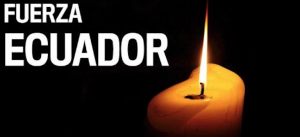 On April 16, Ecuador was struck by a devastating, 7.8 magnitude earthquake that shook the northern Pacific Coast, and surrounding areas. The death toll has surpassed 350, and thousands reported injured so far.
During the weekend we already confirmed that all Tropic groups and guides currently on tour are safe and accounted for.
Important: the main tourism areas where we work are fully operational, including main airports in Quito, Guayaquil, the Andean Highlands, Amazon Rainforest and the Galapagos Islands. Ecuador is open for tourism.
We will send you personalized updates for any upcoming groups this week. We also urge you to encourage people to visit Ecuador as tourism is one of the main economic activities which can generate much needed jobs and inject much-needed currency into our dollarized economy, especially critical in this time of need in our country.
That said, as you have no doubt seen and heard on the news, Ecuador is in crisis. The damage is severe and widespread in poorest areas of the Pacific Coast. Thousands of people are without food, water, electricity or shelter. Ecuador needs our help.
There are multiple ways to help with the relief efforts by donating to Ecuadorian Red Cross or UNDP. A donation to these organizations will help with the immediate basic needs of those impacted by this devastating earthquake.
I have been in touch with colleagues from Nepal and have learned a lot from their experience dealing with the aftermath of the earthquake just one year ago. Based on their experience, they emphasized that items such as water purifiers and access to solar electricity are critical for survivors impacted by the devastation caused by the earthquake.
This is why we have decided to partner with our friends at Renova Energia to source portable solar energy kits for those in need, and we are collecting donations over the next 24 hours to buy 50 kits. We happen to share an office building with Renova Energia and have been working with them since Sunday morning on devising this plan.
I urge you to please visit our fundraising page today to help us raise $5,000 to provide these families with light and the ability to communicate. We will bring the equipment and technical assistance to help the locals use them as soon as we have the funding.
Even if you can't help, someone you know can. Please spread the word on social media and tell your friends and family. The more we raise, the more we can help. Please use #lightupecuador on Twitter and Facebook.
Humanity is at its strongest when we come together to help our brothers and sisters from around the world. Please join me in this pursuit and together we will do our part to help.
Contributing members are responsible for the accuracy of content contributed to the Member News section of AdventureTravelNews.