The first brand to prioritize making travelers' lives easier by staying within airline requirements.
"Carry on size has always been a little bit of a moving target, but Eagle Creek bags have consistently been designed and built to fit into the overhead compartments of most US domestic airlines, while also providing smaller carry-on sizes for international travel." – Roger Spatz, President at Eagle Creek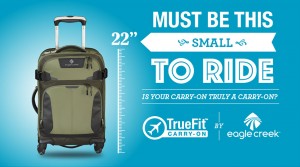 San Diego, CA – Travel can have its challenges. Your luggage shouldn't add to your stress level. Eagle Creek, the leader in adventure travel, introduces TrueFit™ sizing on all carry-on sized products, giving you confidence that your luggage should fit in the luggage sizer.
We've all wondered whether or not we're going to be able to get our luggage through the gate, onto the plane and into the overhead compartment at one time or another. And with good reason. Over recent years, many major airlines have reduced the size of allowable carry-on luggage or have started enforcing their size requirements.
Many brands today claim to offer carry-on luggage sizes, but not all publish the true sizes or weights of their bags. This ultimately means that consumers may encounter the unfortunate experience of their bag being gate checked – with absolutely nothing that can be done about it.
Eagle Creek carry-on luggage has always been true to published specs, and sized to meet airline requirements. Elevating their consumer promise of integrity, Eagle Creek is launching the TrueFit™ Carry-On campaign, to demonstrate that all Eagle Creek bags sized 22" or smaller fit the 22 x 14 x 9" inch maximum size allowed by most major US carriers, including United, Delta and American.
Always developing innovative travel gear and sharing tips for making travel easier, Eagle Creek continues to put the consumer experience of travel as their top priority, making every trip more enjoyable.
To get the word out, Eagle Creek will deploy a number of strategies including homepage storytelling, a dedicated landing page, on-product messaging, a social media campaign, and a helpful education about carrying on, on the Eagle Creek Blog.
Contributing members are responsible for the accuracy of content contributed to the Member News section of AdventureTravelNews.