Ultra light tech transport for today's digital tools, Eagle Creek builds innovation, protection and durability into everything they make.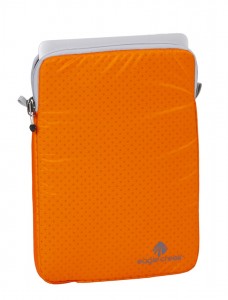 San Diego, CA – Adding to their wildly popular Pack-It™ Specter collection, the new Specter Sleeves for laptops and tablets provide protection while enabling convenient power connection in a lightweight, padded sleeve that can go anywhere. Bright, eye-catching colors make it easy to identify.
Featuring ultralight ripstop silnylon and perforated padding to keep things light and airy, the Specter Sleeves also features a strategically placed Power Port™, allowing for convenient in-sleeve charging. Plus the vertical zippered opening on the end makes it easy to access a device from a backpack. The new Specter e-Sleeves encompass everything travelers have come to expect from Eagle Creek: versatility, durability, security and smart organization.
Eagle Creek Specter e-Sleeves also feature some of the lightest weights and greatest value of any laptop sleeve on the market, making them the ideal gift idea for the frequent traveler or laptop-lugger in your life.
The new Eagle Creek Specter e-Sleeves are available at retail 11/1/13.
Pack-It™ Specter Sleeve Highlights include:
Pack-It™ Specter Mini-Tablet Sleeve (EC 41226) MSRP $16
Weight: 1.5 oz; Size: 5.75 x 8.25 x 0.5 in
Pack-It™ Specter Tablet Sleeve (EC 41227) MSRP $18
Weight: 2.25 oz; Size 8.25 x 10.5 x 0.5 in
Pack-It™ Specter Laptop Sleeve 13 (EC 41228) MSRP $25
Weight: 3 oz; Size: 10.5 x 13.5 x 0.75 in
Pack-It™ Specter Laptop Sleeve 15 (EC 41229) MSRP $26
Weight: 3.5 oz; Size: 10.5 x 15 x 1 in
Zipper pulls for easy access
Power Port™ for convenient in-sleeve power charging
Ultra light silnylon ripstop fabric
Perforated EVA foam for ultra light padding
Washable
Colors: White/Strobe, Strobe Green, Tangerine
Contributing members are responsible for the accuracy of content contributed to the Member News section of AdventureTravelNews.