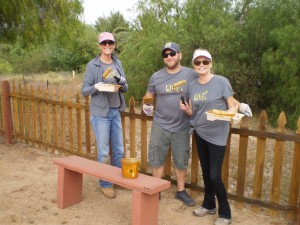 San Diego, CA – As part of their continuing efforts to give back to the community, the staff at Eagle Creek wrapped another successful Service Day on April 23, 2015. Partnering with San Dieguito River Park (SDRP) to work on and around the Sikes Adobe Historic Farmstead near San Diego, CA.
Twenty-three Eagle Creek staff happily weeded, mulched, sanded, stained and more at the Sikes Adobe Historic Farmstead, helping to restore the grounds and make it more pleasant for visitors and the weekly Farmer's Market. Volunteers worked in the peach orchard and gardens, weeded and mulched the farmer's market square, and sanded and stained the property fence. The Sikes Adobe Farmhouse dates back to 1869 and is a historic landmark in San Diego. Its mission is to bring to life the time period from 1869-1899 helping to educate the public about the pioneer farming experience.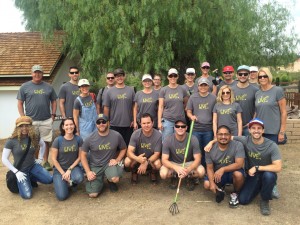 "We always enjoy our Service Day," said Veronica Cox, Marketing Director at Eagle Creek. "Giving back to this great community gives us a sense of pride and accomplishment, and we know that our work will be enjoyed by many local San Diegans year round. It's an honor to be involved, and a great and rewarding way to spend the day."
"My heartfelt thanks to all the wonderful folks from Eagle Creek! Your time, and tool donations will go a long way toward making the Sikes Adobe more visitor-friendly. I was amazed by how much work the crew accomplished," said Anne Cooper, Executive Director at SDRP. "I hope that as a group, you felt that you had made a difference, because it was very apparent to those of us who spend time there. Thank you!"
Eagle Creek is a proud sponsor of the semi-annual Service Day and applauds the commitment and generosity of their employees.
Contributing members are responsible for the accuracy of content contributed to the Member News section of AdventureTravelNews.