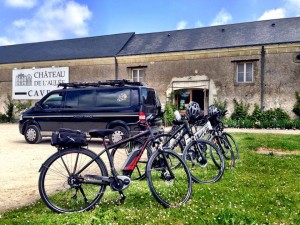 Hauling up hills is suddenly easier when choosing an e-bike over a traditional bike—a trend well under way and taking hold throughout Europe. While bike sales in general in Europe have remained relatively steady, electric bike sales have been on the rise. And the more the word gets out, the more the demand continues to increase.
An electric bike, or e-bike, gives the rider a small boost. At first glance, it hardly seems different than a traditional bike. The rider experiences all the sensations of riding a bicycle— with simply a little extra help chugging up hills. Despite the electric aid, it differs from a scooter or moped in that it doesn't do all the work for the cyclist. Basically, an e-bike lets the cyclist explore the world by bicycle while keeping your legs fresh! To some degree, it's a "great equalizer," making cycling a far more feasible physical pursuit for all.
Although e-bike sales in Europe are far fewer than e-bike sales in China, the demand is growing. Over the past 10 years, the market has seen a steady increase. In 2006, 98,000 e-bikes were sold in Europe; that number increased to nearly one million in 2013. Germany is the top buyer of e-bikes, with the Netherlands not far behind. In France and Italy, e-bike sales did well in 2013, with France up by 17% and Italy up by 12%. In addition, a 2013 German study discovered that e-bikes are an important factor for maintaining stability in the traditional German bicycle market. In Sweden, the city of Gothenburg is piloting an e-bike program and loaned them out free for six months to a number of its residents to try to fuel further interest in zero-carbon solutions. The bikes were snatched up almost instantly.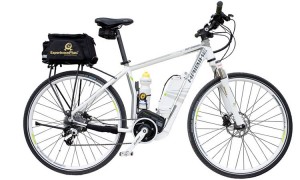 "The e-bike project is very exciting and is a further step in finding sustainable ways to get around in city traffic," says Eva Eriksson, Marketing Coordinator for the City of Gothenburg Urban Transport Administration. "Internationally, e-bikes are starting to be really popular and we in Gothenburg want to be in the forefront."
Of course, e-bikes are finding their place far beyond urban centers: E-bikes have also taken hold among cycling tour operators. Many ATTA members, including Discover France and ExperiencePlus!, have invested in e-bikes, adding them as an option for specific tours with positive results.
"Before the e-bike, if there was a difference in level between travelers (couples, families, grandparents) they could not travel together," says Thomas Boutin, CEO of Discover France, which offers cycling trips in more than a dozen countries. "[Groups of varied abilities] had to choose the easiest level…but now with the e-bike, they can cycle together on a challenging trip!"
Because of their capability, e-bikes can reach a larger client base. E-bikes have broadened target audiences to include people who wish to do a cycling tour but cannot physically complete it, couples or families with differing degrees of ability, or simply those who do not feel confident enough to do a prolonged tour by traditional bicycle. E-bikes make the journey physically easier without taking away from the adventurous nature of a cycling trip, and allow anyone to join in!
"We are excited that e-bikes can make some of these trips accessible to people who would otherwise not consider a bike tour," says Maria Elena Malpezzi-Price, co-owner of ExperiencePlus!.
E-bikes have evolved since their initiation—most of today's products look and feel much like a normal bike. The main difference is that pedalling up hills has become effortless! Like a regular bike, it's still possible to pedal—therefore conserving the battery—but it's also possible to engage the throttle to help with uphills, headwinds, long distances, or simply take a break from hard pedalling.
Because of all these advantages, they are becoming a popular option. "Our stock has grown with the client demand," Boutin states. "In 2014 by 5%, in 2015 by 20%, in three to five years, we think 50% of our stock will be e-bikes," he says.
"There is still a learning curve when choosing to cycle on an e-bike, including: weight changes/differences compared to a regular bike and how it feels to have a pedal assist," Price explains. "We have found that some guests are already competent at riding e-bikes, while others have had no prior experience. We really emphasize that people have to be comfortable with the initial learning curve when choosing an e-bike on tour—it isn't just a regular bike that is light and nimble! However, we have found that the learning curve is fast."
Naturally, any operator introducing e-bikes must adapt their itineraries appropriately. In many ways, this actually makes things easier, as hills and other difficult natural features pose fewer problems. However, each day's distance must be well within the range of the e-bike's capacity, and each night's stop must be capable of recharging the battery. Therefore, a carefully planned itinerary adaptable to both traditional and e-bike options is essential.
As for battery charges, most bikes get 22 – 40 miles (35 – 65 km) on one charge (depending on model, battery, usage, hills, wind, weight of rider, etc.), with an electric assist up to about 20 mph (32 kph), though the bike can be ridden without the electric assist. Re-charging the battery can be done in a few hours or can be charged overnight.
At ExperiencePlus!, they don't leave it up to guests to feel like they have to remember to charge a battery every night, so their guides make sure to have one or two batteries charging each night. "We wouldn't want our cyclists to literally run out of batteries on the road!" says Price.
Weight is also a consideration for tour operators. ExperiencePlus! has found that even sleeker models must be transported inside the van (instead of on top), limiting the amount of e-bikes available per tour. Carrying them can also be more difficult.
Of course, cost varies depending on model, brand, and quality. Boutin mentions that in order to compete with the high quality of the traditional bikes most operators use, e-bikes must be of comparable quality, thus costing roughly three times that of a traditional bike. Because of a higher initial cost for the operator, clients must pay an additional rental fee.
A final consideration is the element of maintenance. "Our team trained for specific maintenance arising from the use of e-bikes and expert knowledge of embedded software," Boutin says, reminding us that like any new product, staff must have sufficient training in order to service the e-bike should the occasion arise.
All in all, e-bikes are gaining steam as more clients and tour operators alike discover the magic of the electric bike and realize its potential to let everyone explore the world on two wheels.